Online marketing is the new norm. With about 4.66 billion people using the internet as of 2020, it's a no-brainer to want to craft a home for yourself in this space. After all, this is where your customers are.
Therefore, if you are engaged in digital marketing, and yet you aren't making sales, there's a missing bridge between you and your customers- visibility.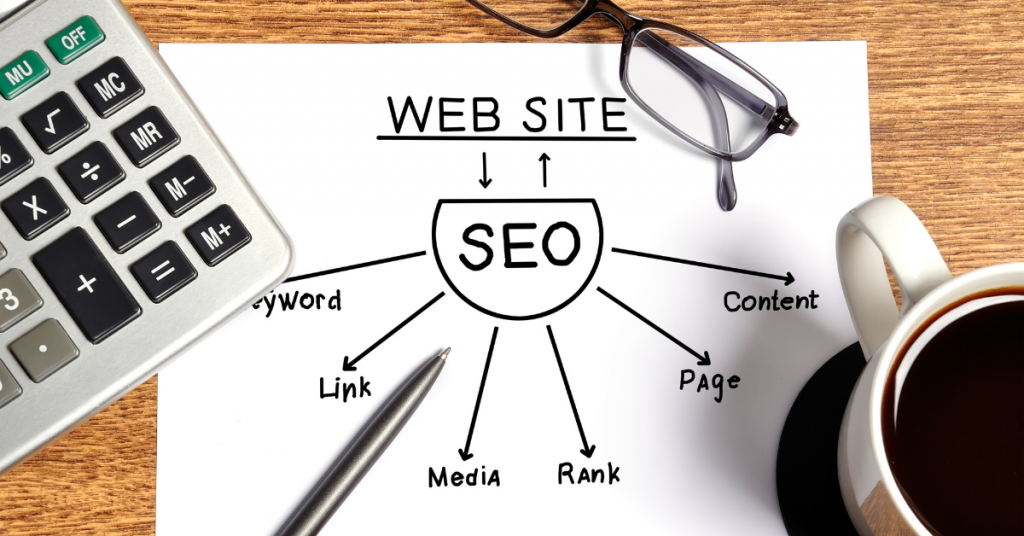 To get this visibility, you'd need SEO.


Really, there's no need to state the importance of inculcating the best SEO practices into your online business model. It speaks for itself- if you want more sales, have a good SEO strategy. Every entrepreneur knows this.
However, we know how frustrating sourcing for a good strategy could be. That's why we've put together an extremely simple, easy-to-comprehend, and yet, effective DIY SEO checklist that'd give your online business a boost in 2021.
Let's go on a jolly ride!


How Does the Search Work?



Let's begin with the basics.
Search engines are answer machines; where you input a query and get an answer. Superficially, it might look straightforward. However, there's a process going on underneath. There are three main steps involved in the optimization of search results.
Crawling
Here, search engines send out 'crawlers' to scour the internet for fresh and new content. These crawlers work in the spider web form. Each hyperlink on the page they are crawling initiates a new crawling request and so on (no wonder they are called spiders sometimes ).

Indexing
The search engine then organizes the contents found during the crawling process into a huge database. Google's index is trillions of GB. Refer to their official documentation on it here: google.com/search/howsearchworks/crawling-indexing/ 

Ranking
The search engines store content in order of relevancy within their servers. Websites that are most relevant to a particular query rank highest. Several unknown factors are considered when deciding which website is most appropriate and which one is not. Here is a reference to their guidelines for anyone who wants to read more about these: https://support.google.com/adsense/answer/1348737
As a website owner, you must ensure your content is visible to crawlers- as well as indexable. If it isn't, you won't get your deserved spot on SERP (Search Engine Ranking Page ). 


Basics You Should Know 
To begin running your own SEO campaign, here are some of the most basic tools and information you should know about.

Google Search Console/ Bing Webmaster Tool Account



The Google Search Console is a free tool by Google that helps you manage, maintain, monitor, and troubleshoot your website's presence on Google's Search Engine Result Page. Many people are confused about this- be assured, the tool isn't mandatory to rank. Google has made it available to communicate with website owners. Signing up for a search console account will help you understand how Google looks at your website- and sometimes recommends what improvements to make.
Bing also offers a similar tool with little change in UI; they call it Bing Webmaster Tool.  
One or both of these tools is the number one step to begin.


Google Analytics Account
Google Analytics helps to look at what kind of traffic your website is getting. It provides details like the number of total visitors, their location, time, how many pages they visited, etc. It even facilitates setting up goals and conversions to focus on pages that get you the most business. Google Analytics (often abbreviated as GA) can also help you optimize your website for better conversions. Metrics such as user behavior, site performance, traffic flow, drop-offs, bounce rate, etc., are convenient when looking at how the website has been over some time (daily, weekly, monthly, and even yearly). Though GA is a complete subject and how it can help is a list that is countless, some other features that can be useful include:
Traffic comparison both year over year and month over month

Social-media stats

Which part of your webpage was clicked the most

Website's conversion rates

The overall effectiveness of your digital marketing strategy from different channels.

How many users are present on the website, a real-time view
Generally, google analytics helps you understand your customer's journey and improve it, an essential aspect of SEO.


Keyword Research


A vital part of the SEO process includes the use of words and phrases which resonate with what users are typing in their query- as well as what your content is all about.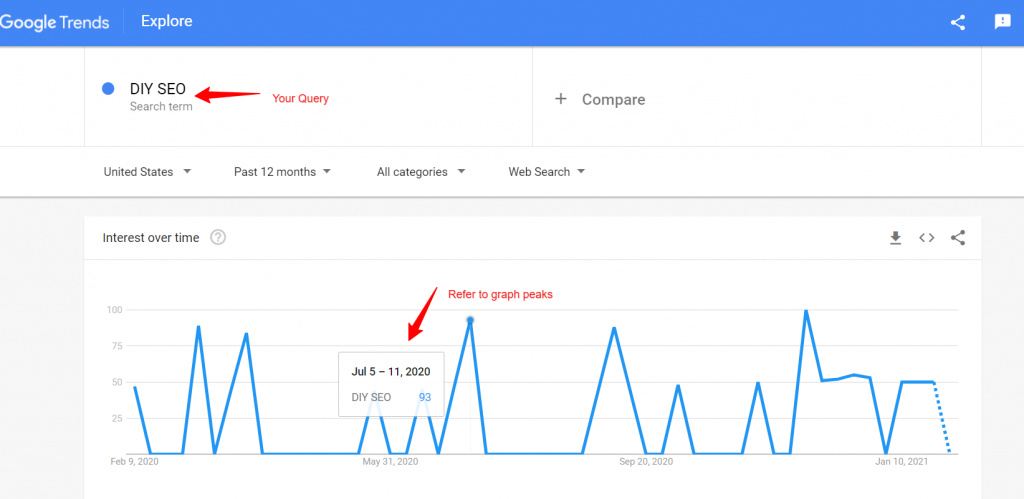 The process is about selecting the potential keywords that your customers will type in Google (or other search engines) use your service or buy your products.
While many paid tools help with detailed Keyword research, to begin with, we are just concerned about the free ones that can give us some objective. To start, just list down a few keywords or phrases that you think a user could type in Search. Then take the keywords from the list one by one and check them on Google trends to see how many people have searched for it in the past and how the trends look. Pick the ones that have some demand and leave the rest. 
You can also use a free plugin that has recently become very popular called "keywords anywhere". It is free for several searches so install it in your browser. Now the way this works is, type the terms from your list in the Search engine the plugin will display an estimated volume along with more suggested keywords.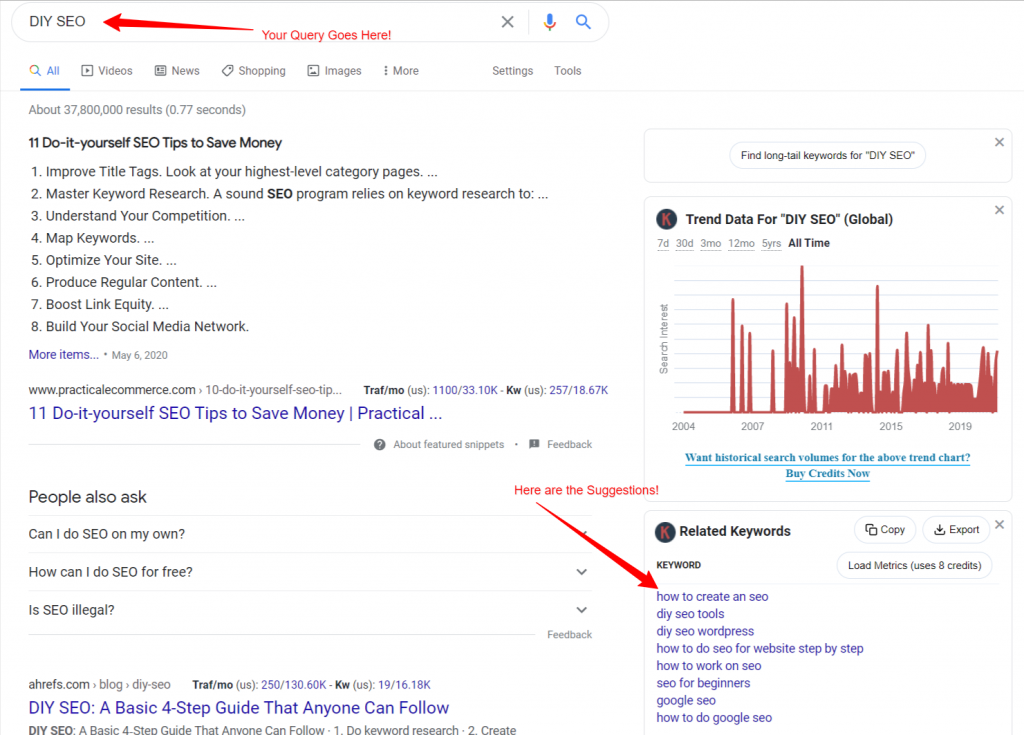 Bonus Tip: Try sticking to 7- 8 terms for each page as too many keywords can dilute the on page optimization.
Keyword Focused Content
The goal of keyword-focused content would be to cause an intersection between the words users are inputting into the search engine and the message your content is passing across.
Google uses this information to determine the relevant content- concerning each query. This is part of what gives a page a higher page ranking- relevancy. Using the appropriate keywords would ensure this.
So, do your keyword research before creating content- as keywords give you a sketch of what users want to see on your site.
Robots.txt File



Do you recall the crawling process of search engines? With a  robots.txt file, you can request web robots which page not to crawl on your site. This helps keep pages that could hurt your SEO- such as duplicate web pages and private web pages- away from search engines. So add all the unnecessary pages to your rbot.txt and mark them for not indexing or crawling. You may need a developer's help if you are not so familiar with your website's backend.
With not going into too much technical on-page, sitemaps are useful. They help in enhancing the crawling and indexing of a webpage- hence, giving your SEO efforts the needed boost. If using a popular CMS like WordPress, setting up an XML sitemap can be really quick using SEO plugins for WordPress. Read more details about sitemaps: https://siteauditor.com/technical-seo/sitemap/ 
What is On-page SEO Optimization?
Also known as on-site SEO factors, these are practices that help in optimizing a web page, with the end goal of improving a site's search engine rankings and earning a flow of traffic from organic searches.
On-page SEO is important because it helps search engines to know what your website and content are all about, as well as its importance to user's queries.
If you miss these factors, your SEO efforts won't yield much gain.
Quick On-page SEO Checklist
Here's a run-through list of various elements of on-page SEO you should include in your campaign:
Perform adequate keyword research before writing a word. The keyword must be relevant to your content, adequately searched, and should be within your website's competitive power. When including keywords, avoid keyword stuff by including it 2-3 times per 100 words (a 2-3% keyword density).

 

Pick a primary keyword. Use the primary keyword in at least one subheading, and the first and last paragraph of your content. Since your primary keyword is a word or phrase users use in a query, including it in your content would show how relevant your content is.

Craft a title with your primary keyword(s)

. Include your primary keyword around the start of the headline. Also, make sure your title serves the audience by being descriptive and compelling enough.

 

Use proper keywords and phrases to write a meta description that not only is treated well by search engines but gets you a better CTR when it shows in the SERP.

Follow rules and create a nice description

that can get you more clicks.

 

Wrap your title in an H1 Tag. Basically, an H1 tag is a piece of HTML code that tells a search engine that the text in question describes what the body of content tries to communicate.

 

Make sure your content is about 300 words. Attaining the 800-word mark would be great for your SEO, as detailed posts have a higher probability of ranking higher.

 

Your content must be unique and original.

 

Wrap your subheadings in H2 tags. Search engines recognize H2 tags as subheadings. Similar to H1 tags, H2 tags communicate to the search engine that the text is very important and related to the main topic discourse.

Add links to relevant sites. This helps add context to your content.
Technical SEO
This involves server and website optimization that helps search engine bots to crawl and scour through your sites effectively.
Here's a checklist for your technical SEO campaign:
Use SSL: Secure Sockets Layer technology means high site security. If your site has 'HTTPS://', then you have SSL active on it. Hence, Google would give you preferential treatment.

Check for Duplicate versions of your site on Google's index. Google's algorithm hates duplicate content. As a result, it lowers the performance of all versions of the duplicate content.

Find and Fix crawl errors.

Improve your site's speed. Page speed is considered by search engines during ranking.

Fix broken outbound and internal links.

Find and fix all HTTP links that are on HTTPS pages.

Create a mobile-friendly website. A responsive site- that adjusts based on the devices being used to view it- is considered a high ranking signal by most search engine algorithms.

Add structured data.

Check the page depth of your site. At maximum, your most important content should be four clicks away.
SEO Optimization for Location-Specific Businesses
In this aspect of SEO, your goal is to be visible in local search results on search engines. If you have a physical location where customers can come and take your service or product, you can benefit from local SEO Optimization.
Do Local citations
A local citation is any mention of the name, phone number, and address of any local business. Citations are important for high local search engine rankings. The intention is to submit your business to the popular local business directories with consistency in the NAP (name address and phone number). Don't fall for low-quality business directories as they are a part of old SEO techniques and are considered as "link farms" by Google. Watch your step and only submit your business on genuine business directories for your area.


Optimize the Google my Business Listing



In simple terms, here's a free tool that lets you add valuable information about your business on Google's listings. Such info includes your office hours, name, and location of your business. Signing up can give your local SEO a boost.
While signing up, here's to optimize your Google Business profile:
Be very meticulous with your contact information. Fill in as much as possible.

Form an enticing description for your business.

Choose a category, select applicable attributes and add photos.

If you have, include Google reviews.

Add products and services.

Set up messaging. Answer questions regularly.
E-commerce SEO
This is the process of optimizing your online store and making it more visible on the Search Engine Results Page (SERP). The strategy should involve optimizing the "category" and "product" pages with a focus to get more sales.
E-Commerce SEO checklist
Here are tips for optimizing your eCommerce site:
    Optimize your titles and meta descriptions. Make use of action words such as 'buy'. Engage in proper keyword research and placement.

      Improve your page load time. The best load time would be between 2-3 seconds.

      Keep the site structure simple.

      Don't forget to make use of HTTPS.

      Make use of a responsive, mobile-friendly site.

      Create quality, relevant content often.
Quick YouTube SEO Checklist
Follow these steps to rank high in YouTube:
Keyword research is where we always begin. Make use of a keyword tool and find the relevant keywords for your video.

Include your keywords in your video as you speak.

Create relevant content that'd command likes and shares. The algorithm loves that!

After recording and editing your video, rename the file of your video to include the most relevant keyword phrase.

Create an optimized and enticing SEO title.

Fill up your video descriptions. Make sure the first sentence contains your keyword. Don't engage in keyword stuffing.

Wrapping it Up
We've tried to cover too many aspects in a single post, we will cover each topic in detail in separate posts so that you can benefit from it and do your own basic SEO as far as possible. Be sure to take action on what you've learned, and we assure you- the internet is yours to conquer!