5 Easy Steps Every Blogger Should Follow to Monetize Their Blog
  You must have probably heard podcasts or read articles on how people earn money by just blogging for a few hours a week from a home office at a quaint location. You must have rubbished it as a gimmick. But guess what…
With a smart strategy and original content, you can make your blog the primary source of your income. Don't you believe us? Well, look at these examples and statistics:
A few days ago, Neil Patel, the co-founder of Crazy Egg and Kissmetrics and a well-known marketing blogger spoke about how blogging has helped him get leads for his company Crazy Egg and mould himself into a personal brand

.
Tom Dupuis is an SEO expert who regularly writes tutorials about WordPress plugins and Siteground hosting in his blogs. He generates $7000 every month through his blog. Over 1,500 people read his tutorials every day!

.
There are over *hold your breath* 84.6 million blog posts every month on WordPress, and let this sink in…WordPress is just one of the many popular platforms used by bloggers to write blogs

.
A survey conducted by ConvertKit last year showed that the net income earned by not-yet-pro bloggers in 2017 was around $9,497 and that earned by pro bloggers was about $138,064

.
According to HubSpot, companies that blog receive 55% more traffic, and 434% indexed pages than the ones that don't

.
Do you see the impact?
Blogging has come a long way from being a platform to share personal opinions to become an income generator.
And going by the trend, it looks like blogging will continue to dominate the space for the years to come.
So, what makes blogging so popular?

Blogs are informative:

From generic blogs on fashion to niche blogs on Artificial Intelligence and data science, blogs have replaced traditional media to become a credible source of information.
Blogs help in networking with like-minded people:

Blogging is an excellent platform to interact with people belonging to your niche and exchanging ideas, and thoughts about the trends in the industry. It can also serve as a platform to build a close-knit community to help and collaborate with each other.
Blogs can get traffic to your website:

According to HubSpot, there are four stages of converting a stranger into a customer or promoter of your business – attract, convert, close and delight. The first step, which attracts, involves writing blogs to create awareness about what you do and to drive traffic to your website. The final steps will ensue once you attract and engage the visitors with your blogs.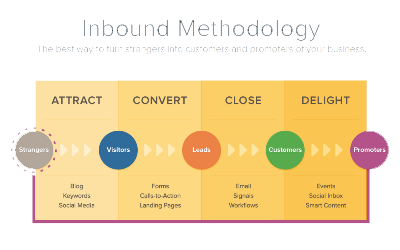 Blogs establish you as a thought leader in the industry:

When you write detailed, informative blog posts related to your expertise, you automatically become a thought leader. It also opens up new avenues for other sources of income. For example, you can do e-learning courses, conduct podcasts, take guest lectures, or even write a book using nuggets from your blog!
So, if you are contemplating to quit your job and blog full-time, then sure, go ahead.
However, before you hit that send button on your resignation letter, read ahead to know how you can monetise your blog to make it your full-time job.
Because blogging requires as much planning as other businesses.
So, read on…


Introducing the five steps to monetise your blog
Step 1: Pick your niche
The good part of blogging as we said before is you can write on a topic of your interest. However, if you are planning to make it into a business, then you have to pick a niche that you can write about confidently. It can be about marketing, about startups, about being a new mom, the list goes on. Introspect about what you love to write about and start blogging.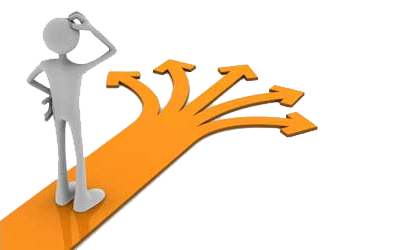 Step  2: Get first 1,000 visitors to your blog
The first milestone of a successful blog is when you get your first 1,000 visitors. To be able to monetise your blog, you have to show that your blog receives enough traffic to be considered for business collaboration. Now, getting the first 1,000 visitors to the blog can be quite a challenge.

There are so many blogs related to your niche, published on a daily basis. So, grabbing the attention of your readers is going to be a herculean task. However, we have some easy tips to help you fix that.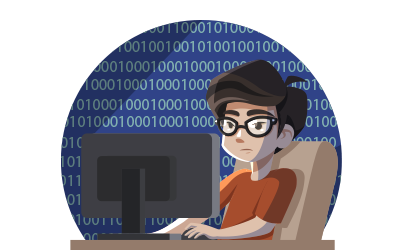 Boost your blog posts:

Once you have started your blog and written an amazing blog post, remember to share it with your target readers. The first obvious way is to share on social media platforms such as Facebook, Twitter, and LinkedIn. The glitch here is the post will be seen by your family, friends, followers, and acquaintances only. 


No matter how many people share your blog, you are not likely to reach your target readers. That's when you need to resort to paid promotion. Facebook, Twitter, and LinkedIn enable you to add money, segment your target audience according to demography, interests, hobbies etc. and promote your post.


The laser-sharp segmentation will help you reach the right audience and get the right type of visitors you want to your blog. Once the pattern of promoting blogs become consistent, it becomes easier to get consistent followers.


Push notifications: So, your target reader has reached your blog, read it, shared it and went away. How do you re-engage with them when you publish the next blog? The answer is to push notification. Push notifications are a great way to ensure that your reader is aware of the latest updates in your blog.

Embedding a push notification code in your blog is easy. If you have a blog on WordPress, you can use a plugin such as one signal to send push notifications to people. The challenge is to ensure that readers click on the 'Allow notification' option. This can be resolved by directing the readers to one of your best blogs. If the blog manages to engross them, then they will be willing to click on the allow notification option.




Step 3: Convert Visitors into Subscribers
This is the second step of the inbound marketing strategy. Once your visitors start engaging with your content, it's time to convert them into avid followers of your blog. There are multiple ways to do it. The most common method used is the subscribe to email option. Yes, that static form where people enter their details to subscribe to your blog.
In most cases, your visitors might choose not to fill in the form and rather read it whenever you share it on the social media platforms. Now, email is a crucial way to connect with your subscriber and inform them of any new initiatives that you begin in the future. Without subscriber database, it can get difficult for you to track your subscribers and report them of your initiatives. So, the other way to get subscribers is by using interactive forms.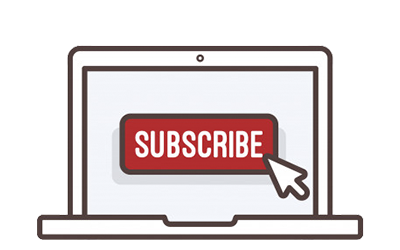 Interactive forms:

In one of our previous blogs titled '

Are Contact Forms Dead?', we wrote about how a survey by Formstack showed that only 3% of the website visitors fill the static forms. Users usually avoid static form because of the one-way communication and its intrusive format.

Interactive forms, on the other hand, are fun to fill up and keeps the user engaged on the website for more time. It also provides value to the user as it can provide a solution to a specific problem of the user. Your interactive forms can vary according to the theme of your blog.

For example, we, at Growth Robotics, provide white label SEO tool called RoboAuditor, which you can embed in your blog with a simple code. When a visitor reaches your blog and realises that there is an option to check the performance of their website, they will be encouraged to enter their email id for a detailed report.

Once the RoboAuditor receives the email id, an automated email with the health report of the website will be sent to them within minutes, and you will have a new e-mail ID added to your database. If your niche lies in writing marketing blogs, this could be a non-intrusive and unique way of getting subscribers and even leads. That's exa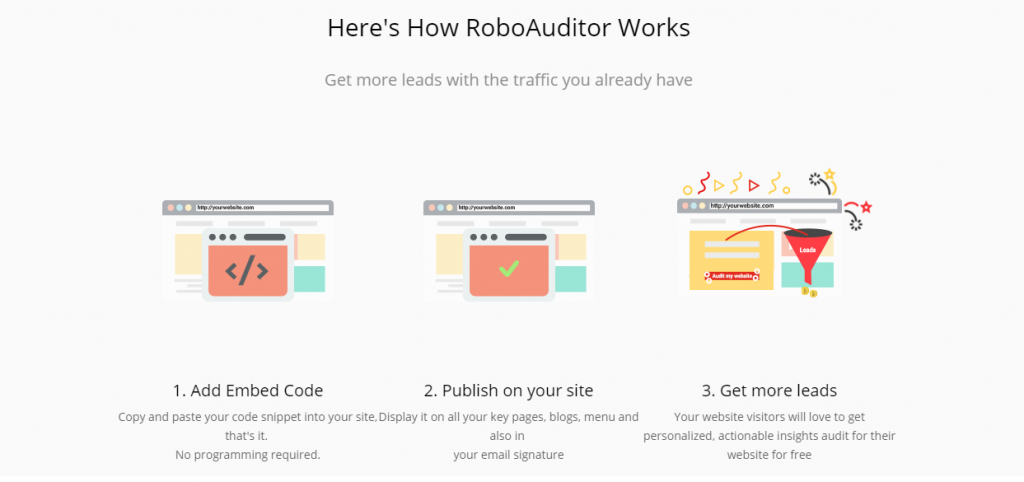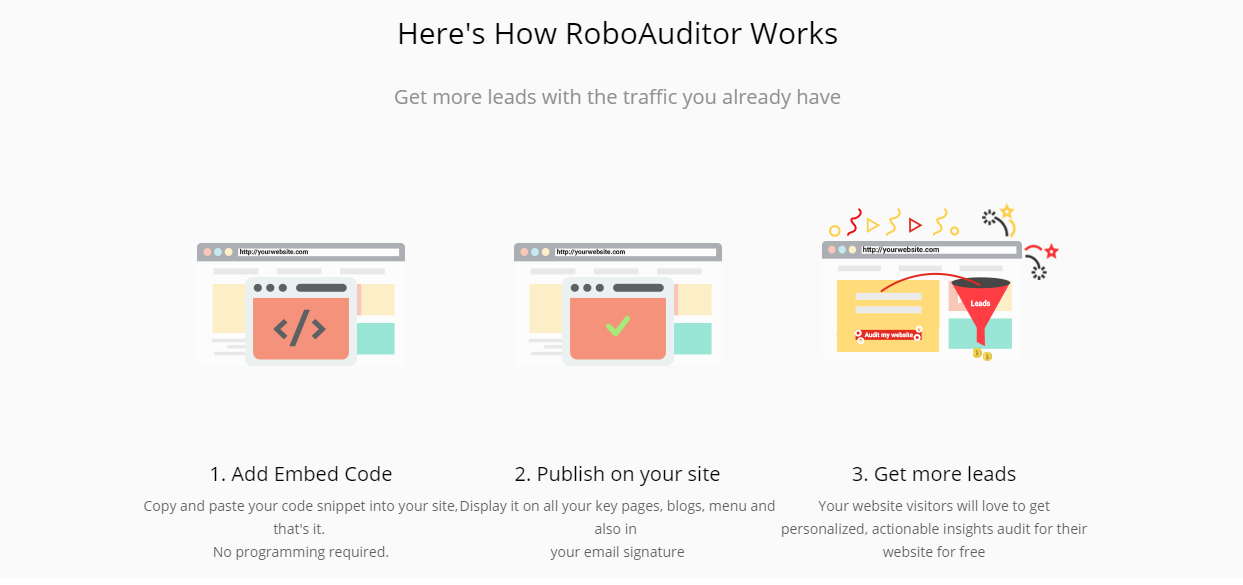 Step 4: Affiliate programs

Do you know how Tom Luipuis generates $7,000 through blogging? He writes detailed tutorials on WordPress plugins such as Yoast and SiteGround Hosting, and that earns him revenue from those companies. Affiliate marketing is a way of earning a commission on each product sold by a company by promoting it on your blog.

People buy products when it is recommended by someone they trust or know personally. So, once you have achieved the first 1000 visitors, you can monetise your blog by using affiliate marketing. Affiliate marketing can be done in various ways – you can write tutorials about how to use the product or review it.

While affiliate marketing has become a popular way of earning passive income, we recommend that you approach only those companies that are aligned with your niche. Also, as a thumb rule, ensure that you do not indulge in false advertising and promote the products subtly. Overt affiliate marketing can break the trust of your visitors, whom you earned with great difficulty.

So, be careful of the thin line between promoting a product and not sounding spammy.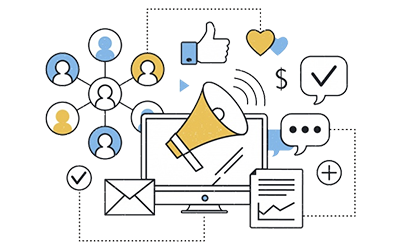 Step 5: Market your freelancing skills

Want to make an extra income besides blogging? The easiest way is to expand your expertise to freelance with organisations in your niche. HubSpot inbound methodology of Attract, Convert, Close, Delight is not only beneficial for companies but freelancers too. Your target clients need to be aware of your expertise.

The best way to do it is by blogging about your area of expertise and promoting it on networking sites such as LinkedIn and Facebook. Blogging can be a great way to find clients and generate income by acquiring new projects. To ensure that your target client is invested in your blogs, you can send them an invitation to follow your blog and take it forward by collaborating on new projects.


What's next?

Now, that you have understood the ways of monetising the blog, we recommend that you spare some time to mull over how you would go about this new business. Here are a few things that we urge you to do to build a robust, money-generating blog:
Start a blog: That's the first step you must take. Choose the right blogging platform, a basic theme to begin with, and a unique name for your blog.
Write consistently: No matter what strategies you apply to monetise your blog, it will fail if you do not write blogs consistently. If time is a constraint, stick to writing one blog every week. But, stick to a schedule and write diligently. Regular blogging will also help you in ranking your blog on the top.
Respond to your followers: Neil Patel says that the best way to engage with your readers is to respond to their comments on your blog. Be proactive in responding to your reader's comments. This will encourage them to follow your blog and engage with it further. Avoid getting involved in unnecessary arguments and furnish facts wherever possible to prove your point. This will help you gain respect among the blogger community.
RoboAuditor is an Embeddable SEO Audit Tool which generates 4X more leads with the traffic you already have.
We hope you found these tips useful. If you have any questions about blogging, please leave your concerns in our comment section below. We will be happy to answer your questions.
Are you planning to embed RoboAuditor on your website? Please contact us at <suppor[email protected]>, and we will help you with the process.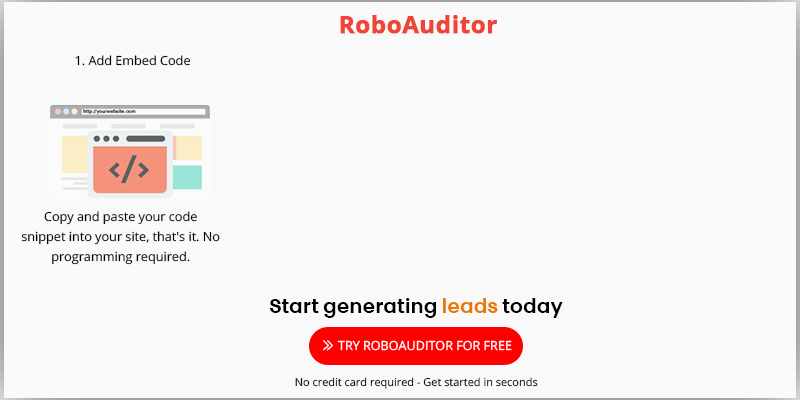 YOU MIGHT ALSO LIKE THESE