Is My Site Indexed?
Search engine optimization (SEO) is a massive field brimming with a multitude of variables that affect the rankings of a website on the search engine result pages (SERPs). Since better search engine rankings translate into higher website user traction and greater profitability, the competition between various web pages vying for the top spot is brutal.

Moreover, organic search traffic is critical for growing a business, since it accounts for more than half of the overall site traffic, on average, as compared to only 5% from social media.

To help your website attain the coveted top position, you need to conduct a thorough evaluation of all the elements that contribute to a high search engine optimized site.

According to Andrey Lipattsev, Search Quality Senior Strategist at Google, the two most important signals used by Google to rank your website for search are high-quality content and link building.

However, before a search engine ranks your webpage, it needs to find, read, and index the website. If your site is not indexed, all your attempts at creating quality content and building authentic links become futile.

Note: It is essential to note that all the following information relates to the Google search engines and, thus, may differ slightly from other search engines. The reason for focusing primarily on Google search engines is that Google accounts for more than 80% of all global desktop search traffic and almost 94% of all mobile/tablet search traffic, making it the most significant search engine to consider. 

What is the website indexing?

In layman's terms, indexing is the procedure of adding web pages to the search engine's directory. Google bots crawl your website following a pre-defined sitemap and index all the web pages and posts that do not host a no-index meta tag (more about this later).

It is crucial to use the no-index meta tag for irrelevant content, including tags, categories, and other useless pages because if Google bots were to index every unnecessary archive of your website, it would have a negative influence on the authenticity of your site. Therefore, it is a good idea to allow only the vital parts of your site to be indexed to rank higher in the search engines.


How can I get my site indexed?                                           

Since site indexing is an automatic process, you can wait for Google bots to crawl your new site, page, or blog organically. However, the process can take weeks or months to be completed, thereby costing you precious time that you could have devoted towards promotions, increasing conversion rates, and improving your social media presence, in short, being more productive. 

Ideally, you would want to increase an effective crawl rate as well as faster indexing, preferably as soon as you hit publish, to get your content out there promptly.


Following are some great ways to ensure Google bots crawl your site regularly:

Create a sitemap: A sitemap is an XML document located on your website's server that contains a list of all your web pages. Sitemap submission is one of the first courses of action taken to increase indexing as it notifies the search engine when you add the new piece of content to your website. If your website is built on WordPress, you can utilize the Google XML sitemap plugin to create a dynamic sitemap as well as submit it to the search engine. 

Use a server with excellent uptime: When you host your site on a reliable server that does not suffer from regular downtime, your website is accessible to Google bots at all times. Consequently, Google crawlers will increase their crawl rate, and your site will be indexed faster. A faster web host also allows your website to load more quickly; the sooner your site loads, the quicker Google bots can enter and index it.

Update your site content regularly: As mentioned earlier, content creation is one of the two most ranking factors in the SERPs. Uploading content regularly on your site can also help your site be crawled more frequently because Google sets the crawl rate according to how consistently you update your site.

Practice link building: Crawlers reach your site via links. There are many ways to generate links to your website. You can do so by submitting guest posts to relevant websites. You can also quick links to your site on your social profile (Twitter profile, Facebook page, LinkedIn profile). Pin photos present on your site on Pinterest, create promotional videos, and upload them to YouTube with your website's link in the description, etc.

Clean up your website: Certain elements of your website might be decreasing the crawl rate, such as duplicate content, unwanted pages, large images, etc.

You should always produce fresh content and authenticate your site using tools that discover duplicate content.

Use Robots.txt files to direct the bots about how to crawl the pages and stop them from crawling useless pages. Optimize your images to include them in search results by installing the Google image sitemap plugin.         

An optimized crawl rate helps in analyzing and indexing your website appropriately without overloading your server resources. You can also check how often Google is crawling your pages by logging into the Search Console.   

How can I check if my site is indexed?

Unless a website is brand new, chances are it has been indexed already. However, it is always good to ask the question, is my site indexed?

Checking to ensure that Google has stored your website in its directory is a simple procedure. Just enter the URL of your domain with the prefix "site," for example, "site:mywebsite.com"  in Google. If Google has crawled your website, it will display all the pages of your website that were indexed. 

On the other hand, if your site is not indexed, Google will not yield any results. This leads to our next question.

Why isn't my site indexed?

Once you have deduced that your website or various web pages have not been stored in Google's directory, the first course of action is to look at your Google Search Console dashboard.

Google Search Console allows you to inspect various aspects of your website, such as its crawl rate, when was it last crawled, security issues, indexing errors, etc.


If Google detects any issues with your website, it will display the error messages on the dashboard, similar to the image below: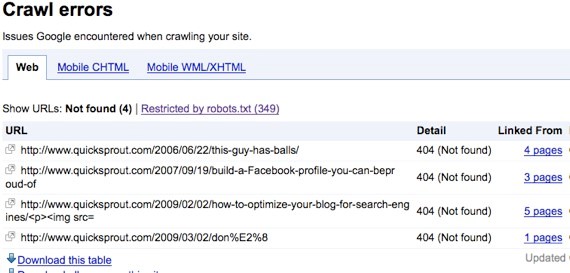 Following are the most common causes of crawling errors and lack of indexing:


Robot.txt: These files communicate specific guidelines to Google bots about crawling, accessing, and indexing content. If your robot.txt file has the line "User-agent: * Disallow: /" in it. This means that the content on that particular page is not cleared for indexing.

Meta tags: Webmasters use these tags to provide search engines with information about their sites. Evaluate the pages not being indexed to ensure that they do not have the meta tags <META NAME=" ROBOTS" CONTENT=" NOINDEX, NOFOLLOW"> in their source code. This particular meta tag prohibits the crawlers from accessing the page, which in turn stops the page from being indexed.    

.htaccess: A simple mistake in .htaccess, an invisible file of your WWW or public_html folder, can result in massive accessibility issues such as infinite loops, which increase the site load time or stop it from loading entirely. If the web page is unable to load, the bots cannot crawl it.

URL errors: These errors do not affect the entire site, only the pages that contain the faulty URLs. These errors include 404 errors (missing page link), access denied errors (Google bots cannot crawl the page), not followed errors (Google bots could not follow the URL), etc.

Connectivity or DNS issues: Sometimes, the bots cannot connect to the domain or access servers when they try to crawl due to various problems. These may include host server being under maintenance, overloaded or misconfigured, or the DNS is unable to route to your domain.

Sitemap: Your sitemap is not updating due to some reasons.

PageRank: Google does not impose an indexation cap on the number of pages per website. However, according to Matt Cutts, Software Engineer in Google, the number of pages crawled is roughly proportional to your PageRank. Therefore, it is ideal to have many incoming links on the primary page to enjoy an increased crawl rate.    

Others: Your website or web pages may not be crawled due to low-quality content, unnatural link building, duplicate content, etc.

Crawl errors can affect the indexation of new web pages and an updated website. However, many of these errors are fixable, restoring your site and allowing Google crawlers to index it.
The current era provides various opportunities to improve site rankings and indexing, all thanks to innovative yet complex algorithms employed by search engines. You just have to be vigilant and proactive about website indexing so that you eventually master SEO and gain the topmost rank.

RoboAuditor is an Embeddable SEO Audit tool that generates 4X more leads with the traffic you already have.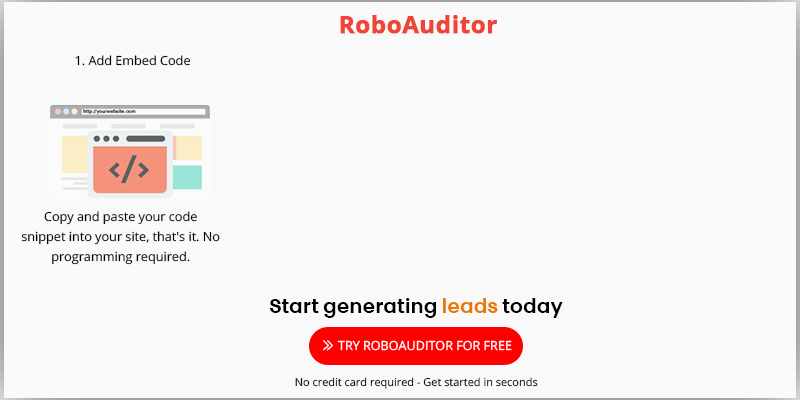 YOU MIGHT ALSO LIKE THESE