14 Day Free Trial
Generate
4X more

SEO leads and Sales Without Additional Traffic

Just embed an SEO audit tool on your website. Takes less than 5 minutes to setup.
Trusted by hundreds of SEO and marketing agencies around the world.




What can Site Auditor do for you?
4x More Leads Overnight
You will be able to generate 4x more leads, without additional traffic immediately.
Increase Sales & Revenue
​You will shorten your sales cycle from weeks/months to days.
Free Up Time
​You will feel empowered because you will have more time to focus on other tasks.
Unlock Your Full Potential
More Leads. More Revenue.
When's the last time you filled out a boring contact form?
Agencies are missing out on 87% of potential leads when visitors are forced to reach out by contact form. Deliver your leads value instead and get 10x more leads and sales.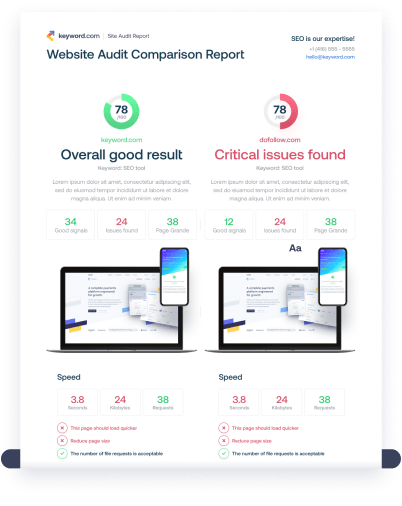 Double Visitor to Lead Conversion Rates
Provide a complimentary SEO audit that shows leads their website's SEO strengths, weaknesses, and areas of improvement.
Trust is built with prospects because the SEO audit is personalized, actionable, and useful. You can differentiate your agency vs. competition. You generate genuine, hot leads
Over
250,000

Leads Generated

Helping over 200 SEO and marketing agencies around the world generate more leads and sales.
Stop Leakage
Embed a site auditor form on your site and generate more leads.
Win More Clients
Audit client websites and generate reports to use in sales meetings.
100% White - labelled
Customize your logo, colors, and contact info on your audit forms and reports.
Integrations
Automate custom followup messages for each new lead.
How Site Auditor Works
1. Add Embeded Code
Copy and paste code snipper on your site. No programming required. Get Site Auditor on your website in a few seconds
2. Publish on Your Site
Customize your logo, colors, and contact info on your audit forms and reports.
3. Get More SEO Leads
Customize your logo or colors, and contact info on your audit forms and reports.
Integrations
Start More Conversations,
Close More Deals
Before Roboauditor
User contacts may be lost forever as they drop off your site rather than filling in a form with no obvious benefit to them.
Win More Clients
Gain more leads and integrate your operations with leading mail & marketing platforms to generate value from your relationships.
What Our Customers Have to Say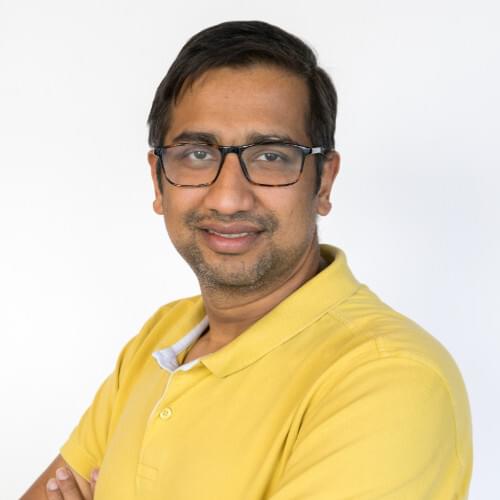 I was spending $$ on creating traditional content which is very chaotic now. Have been looking for something fresh lead gen, and was wowed by the Site Auditor tool.
In the 1st week only, we started seeing 2x more leads in out sales funnel!
Shreyansh from Fractional CMO
2x increase in leads in 1 week
4x increase in leads in 2 month
Generating 10 qualified leads per week on auto-pilot
75% reduction in marketing costs
2x increase in leads in 1 week
Reduced sales cycle from 3 weeks to 3-4 days
Simple Pricing
All Features Unlimited
Unlimited Leads
Email Validation
Unlimited Downloads
Unlimited Audits
Unlimited Integrations
White Label URL
WordPress Plugin
White Label Audit Report
Custom Click to Actions
Pre Built Audit Landing Page
Embed Audit Tool on All Pages
Customized SEO Audit Report
Chrome Extensions
Popup
It's an excellent tool. We got 50+ leads in just 2 days by simply adding it to our blogs.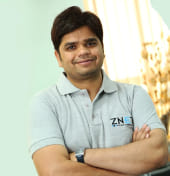 FAQ
How long does it take to create a
single lead collection form?
It takes around 5 minutes to customize a lead collection form, another 5 minutes to embed this form on to your website.
Am I really missing out on leads?
Yes. Your prospective clients are being funneled through a Contact Us form with no obvious benefit to them. 9/10 potential leads will simply leave your site and never submit an email leaving you with no way of ever contacting them or finding that they actually visited.
How does personalizing the data in the complimentary SEO audit help?
By finding issues with the prospective client's website, you open up a conversation which could lead to a lasting business relationship. By making the conversation about the customer, you are creating an environment that feels personal.
Do you have any cancellation fees?
No. Site Auditor is a pay-as-you-go service. We do not charge any cancellation fees. You can cancel whenever you want. If you cancel, you will be billed for the current month, but not for any subsequent months.
How will offering this SEO audit help me grow my business?
The personalized SEO audit helps to convey the impression of expertise and helps to differentiate you from the competition. Conversations that begin with prospective clients talking about their pain points are more.
What is the disadvantage of offering an eBook over a personalized SEO audit?
There is a huge upfront investment to create such an eBook, and you will not know if anyone even wants it. Furthermore, there are a vast array of eBooks out there and the offer is simply not enticing.