Why Every Agency should have a White Label SEO Audit Tool in their Kitty!!
Before getting into the need to have a White Label SEO Audit Tool in your kitty, let us understand what this term 'White Label SEO Audit Tool' actually means!!


An SEO Audit Tool is like what a thermometer is to a doctor. It helps the marketers know the health of a website in just a few seconds.


White Label is all about making website health report (popularly known as Website Audit report or SEO Audit Report)  as yours, i.e. without any third party branding 🙂


Every Agency which works in the field of inbound marketing, website design, or improving business through digital channels,  do SEO Audits / Website Audits of the client's website multiple times to make sure the best practices of On-Page and Technical SEO are followed.


Now, as we have a brief idea of what White Label SEO Audit Tool is all about, Let's understand how it can help marketers and digital agencies in improving their business.


What Makes White Label SEO Audit Tool So Important !!


1. Start Generating Leads Now:


As a business owner, you, of course, want to have a lot of leads and keep your Top of the Funnel full :). Gated content is an excellent way of generating leads, but it needs at least a couple of months and a team of 4 experts (content writer, graphics designer, website expert, SEO expert to make a wonderful ebook or a white paper. (you can find a detailed blog on this topic here) this where White Label SEO audit tool comes handy.


With RoboAuditor,  you can embed the SEO Audit Tool yourself by just adding a couple of lines code on your web page and start generating the leads from day 0 onwards. Now you no longer have to wait for months as you do for your gated content.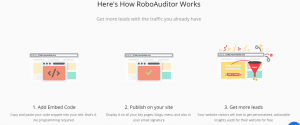 2. Reduce Cost per Lead:


Lets us first understand what Cost per Lead exactly is!


Well, Cost Per Lead (CPL) is the total cost that is induced while developing, publishing, and sharing the offers amongst various channels to that of the number of leads generated.



It's always essential to differentiate the costs over different offers so that you can know which offer or content gives more profit, in short, it is generating clients at a much lesser price.  



Consider this example, now suppose your marketing team spends around $1000 to generate say 10 leads, the cost per lead would become $100. But now you increase the sales by doubling the number of leads to say $20 and spend the same $1000, but soon your cost per lead would come down to $50. This sounds amazing, isn't it?



A Site Audit reduces your cost per lead by more than 75% if it's executed properly.



With the money you save on the lead generation, you can have drinks with your team (every week 🙂 )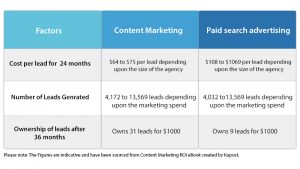 3. More Personalized Content:

        
White papers and e-books provide the users with detailed information, but they do not focus on particular information which your prospects would be looking for.



A recent study by Hubspot shows that the long form of content, i.e. ebooks, white papers, etc. is least popular among all age groups across the world.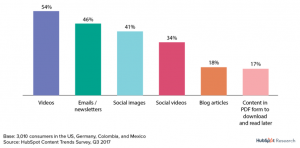 For Example, you wrote a wonderful ebook on SEO Audit Checklist, but your prospects still have to digest this information and apply it to the website manually and then analyze the output.


Wouldn't your prospect be super HAPPY if you directly do the SEO Audit and give the exact pointers which should be worked upon? Of course, yes. The prospects would love this. That's exactly what your SEO Audit Tool should do.



4. Immediate Actionable Insights:


Actionable Insights can be defined as an analytical result that provides sufficient data to the organizations and managers to make an up-to-date decision. In short, it is about giving the right recommendations based on a certain logic.


Who doesn't love recommendations? If an SEO Audit Report not only tells me the issues but also tells me what to do to fix it, would I love it? Of course, I will, and I am sure the same is the case with most of the business owners worldwide.


An SEO Audit Tool that gives you not only the list of issues but also the recommendation on how to fix it would make the real difference. RoboAuditor provides detailed recommendations based on the website audit information.


5. Make your Sales team look awesome before clients:



As a business owner, wouldn't you would want to look the best for your clients? This can only be possible if and only if your sales team has done proper research about the clients.



Wouldn't it be awesome if your sales team walks into a client meeting with a comprehensive website audit report (with your business branding, of course) and start the discussion from there? This, for sure, will leave a good impression on the client, and your agency will have an extra edge to win the deal.

Conclusion:
SEO Audit Tool is one of the best lead generation tools your business should invest it. RoboAuditor is the only White Label SEO Audit Tool which not only provides downloadable comprehensive SEO Audit reports but also lets you Embed the SEO Audit tool on to your website in just a few clicks.


Start Using RoboAuditor today and automate your agency's sales and marketing.
RoboAuditor is an Embeddable Technical SEO Audit tool that generates 4X more leads with the traffic you already have.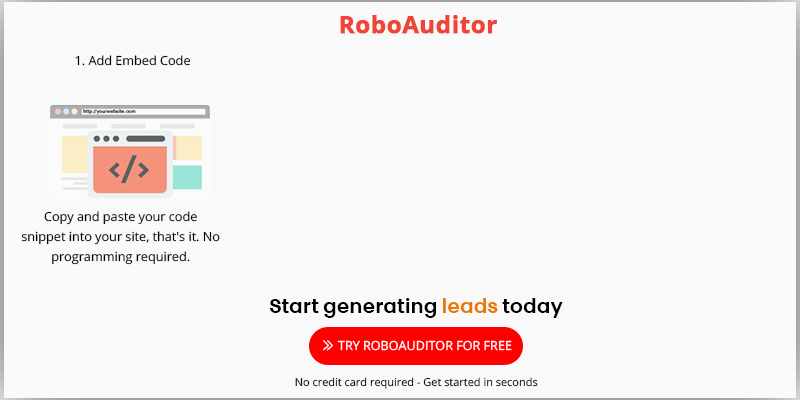 YOU MIGHT ALSO LIKE THESE