A small business owner understands the importance of digital presence and invested a lot of time and money in building a fantastic bakery website. Excellent content and Jaw-dropping images, Design, User-friendly navigation.

However, she quickly realizes that her website does not feature on the first or second page of the search engine, even if someone searches for a bakery in her area.

When she explains this to her friend over a cup of coffee, she suggested her to look for a digital marketing agency to optimize her website and make it search engine-friendly.  
Now the bakery owner started looks for digital marketing agencies in her area, and almost everyone promises to optimize her website. The business owner was looking for someone who can tell her the issues on the website upfront.

Unable to differentiate between agencies, she eventually chooses the first agency that she finds on the Internet.
Sounds familiar?
As a digital marketing agency, you must be aware that people realize the importance of having an optimized website. They understand that Search Engine Optimization (SEO) is a technical and long-term exercise that requires the attention of a digital marketing agency or an SEO expert.

That's why they do not hesitate to hire a digital marketing agency to help them in their endeavor of improving their ranking and growing the business.


"However, with digital marketing and SEO agencies mushrooming in every part of the globe, providing a differentiation has become more important than ever."


To add to the competition, Google recommends business owners to select the agency based on their search and technical audit prowess. Which essentially means that

"Google advises businesses to ask SEO agencies to provide recommendations to improve the search and technical performance of the website to help them choose the right agency."
This, in a way, spells good news for you as you can leverage this opportunity and become one of the most sought-after digital marketing agencies in this booming industry.

White Label SEO Audit – Your Secret to Success
Every business would want to know their site's performance and understand how it can be improved. While other digital agencies ask business owners to pay a small fee upfront and take over a week to analyze the website, you can do it for them free of cost using white label SEO AuditTool. You can even give them the power to analyze their website themselves and receive a report almost immediately.

This makes it a reliable and trustworthy tool.

Why Are White Label SEO Audit Tools So Popular?
White label SEO Audit Tools is getting a strong foothold in the digital marketing industry, and there are two primary reasons for it.
1. Helps in Generating Leads
Let's take an example of a Hyderabad-based digital marketing agency called Fractional CMO that offers digital marketing services to SaaS, Manufacturing, and Real Estate companies.
Fractional CMO was highly dependent on different lead channels such as eBooks, whitepapers, and blogs to generate leads. The entire exercise proved to be time-consuming and cost-intensive for them.

Fractional CMO signed up for a free trial version of RoboAuditor, a white label SEO tool, and added it to their website (screenshot is given below). So, whoever visited their website had the option to analyze their website for free instead of paying $500.

Within one week of embedding the white label code, Fractional CMO was able to see an increase in qualified leads by 2x times. As of today, Fractional CMO has been able to increase their leads by 400% and reduce the marketing spend by 75% by using white label SEO.




And Fractional CMO is not the only digital marketing agency to have benefited from it. Even HubSpot, the 5th ranking website in the online marketing space, has successfully used a tool called Website Grader is one of the methods to generate leads for their website.

In one of the articles in Forbes, the author, Joe Escobedo, made a valid point – "To stand out in a crowded marketplace, your lead magnet needs to be great. When every business is giving away free e-books, give out a free software tool that helps solve your customer's pain point so you can set your business apart from your competitors."


This is precisely what makes white label SEO tools so popular.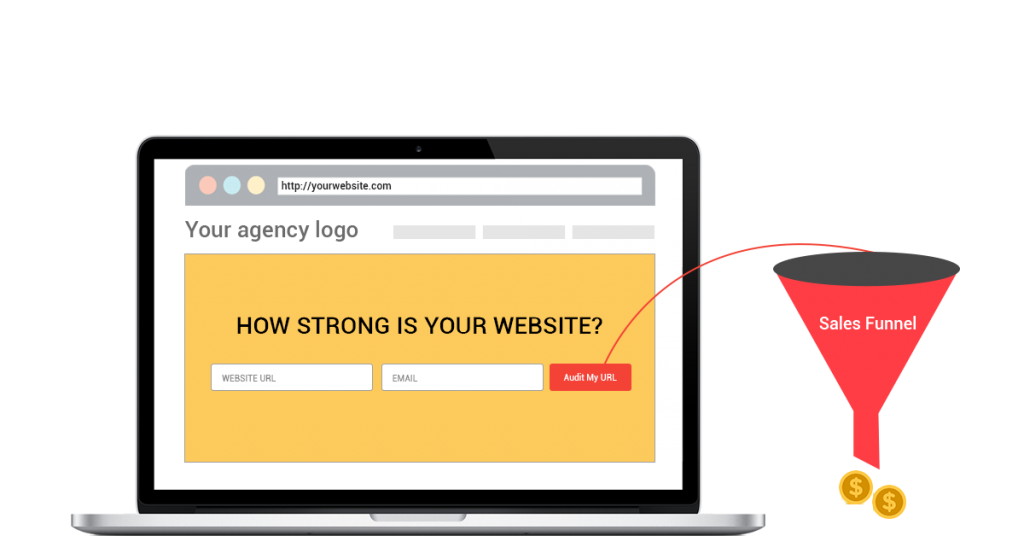 2. Helps in Winning Clients
So, your website visitor has received a detailed report on the improvements they can make to their website. Do you think they will implement it? Neil Patel believes they wouldn't. In his article 'How I Built a 7 Figure SEO Agency', Neil Patel suggests that the visitor will most likely ask you to fix the issues found on their website because they would rather trust your sensibilities to fix the problem than spending their time and resources on it.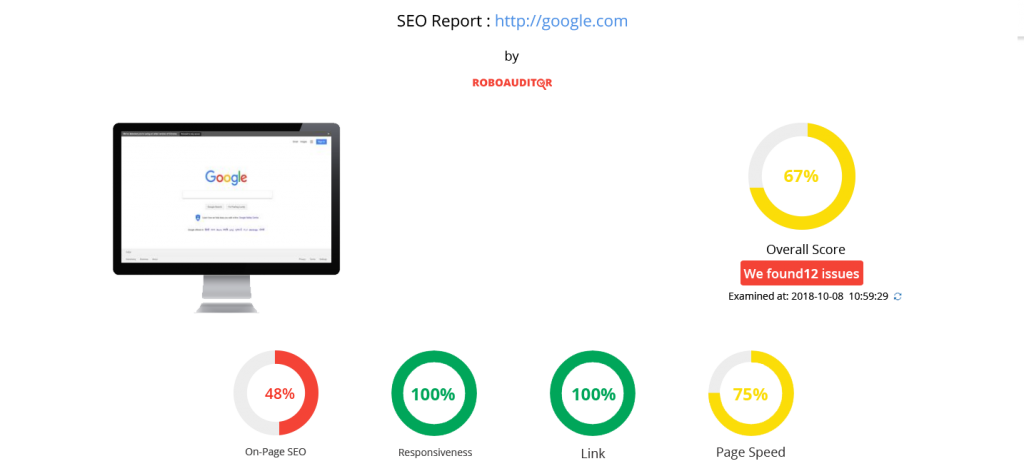 If you were a business owner, you would ask the digital agency to fix it, won't you?


So, you see, by using white label SEO and sending the website health report in advance, you will be able to win the trust of the visitor and eventually convert them into a client.
RoboAuditor – A Perfect Partner for Your Growth
Selecting the right white label SEO audit tool is essential from your business growth perspective, because if the tool is below par and misleading, then there is a chance that your website visitors might not trust your business at all.


However, with RoboAuditor by your side, you need not worry about it. Here are a few reasons that make RoboAuditor a perfect partner for your business.


Easy to use: Growth Robotics' RoboAuditor is a ready-to-use tool that can be used by a non-technical person too. All you need to do is, embed the code to your website, and you are ready!
White-label reports: A lot of white label SEO tool developers do not offer the option to publish white-label reports. This can be a disadvantage for those who want the reports to be sent under their name. RoboAuditor

offers white-label reports that give you the complete freedom to use your brand in the report.
Integration: Integration with various tools enables you to offer value-add service to the client. RoboAuditor offers integration with MailChimp, WordPress Plugin, HubSpot CRM, Chrome Extensions, and much more.
Customization: All of us love customization. Customized white-label reports will help you offer unique services to your customers. RoboAuditor offers customizations such as reports in multiple languages and empowers you to choose what you want to display in the report.
White label SEO audit tool is worth an investment to generate good quality leads at a minimal cost. If you are toying with the idea of trying it out, then do not hesitate to contact us. We are always ready to help :).


RoboAuditor is an Embeddable SEO Audit tool that generates 4X more leads with the traffic you already have.