People may not have a landline number at home these days, but everyone has an email id. Businesses do. Individuals do. Even universities and government agencies rely on email addresses to foster communication. Email subscription started gaining popularity in the 90s, but even today, it remains one of the prime channels used by marketers to build brand awareness and maintain brand recall.
"Active email accounts are expected to hit 5.6 billion by 2019"  – Statista – 2018
Growing the list of your email subscribers systematically can help you maintain a loyal following, drive traffic organically to your website and increase the likelihood of product purchases.
5 Ways to Double Your Email Subscriptions
Create a compelling offer
Static forms like 'subscribe to the newsletter' are too commonplace. Expecting such forms to work is probably going to end in disappointment as statistics show that submission of such forms is less than 3%. With the amount of effort and resources you expend in creating content, this is hardly the kind of result you want.
Instead, if you create a compelling offer, you will give the visitors an incentive to signup by providing them with something to enjoy immediately. This could be exclusive access to content, a discount offer, or even a free ebook.
Make use of smart tools like RoboAuditor that have creative designs and layout you can choose from to personalize a signup form, enticing visitors to make use of a compelling offer. RoboAuditor works generate with the aim of generating more leads for your business by conducting a comprehensive SEO audit of your website and integrating with popular platforms like MailChimp, WordPress, and HubSpot.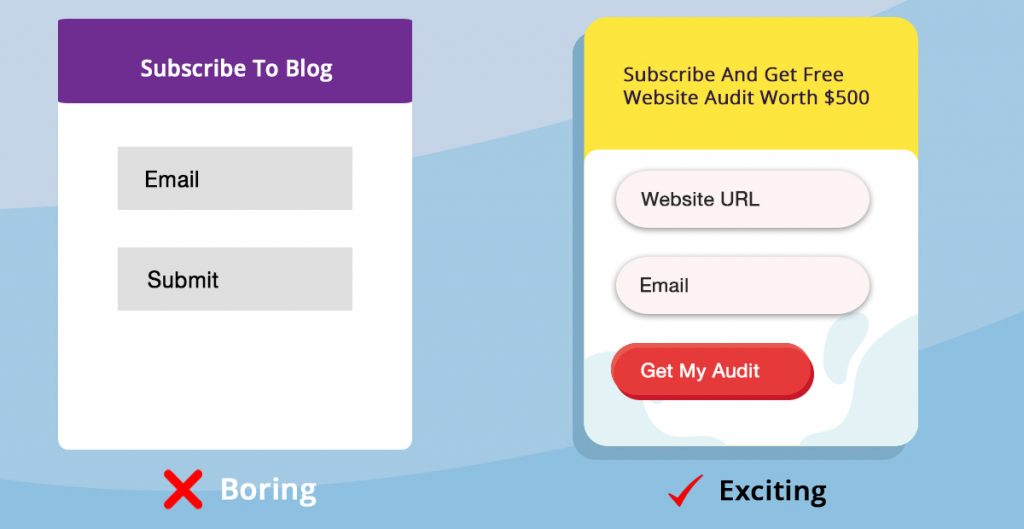 Reduce the friction to subscribe
Make it easy and simple for visitors to leave their email addresses. A form with too many questions to be answered can feel like an inspection of sorts, and nobody likes the paperwork. Chances are the visitor will get turned off and decide to move on.
Signup forms must be simple and unobtrusive. The position of the way should not jar the actual scrolling or reading experience of the website — experiment with different layouts and elements.
Test different types of signup forms, from pop-up ones to buttons embedded within blog posts, to assess which ones are more likely to convert generic visitors to email subscribers. Keep the number of clicks that the user has to go through to get your offer to a minimum.
You may want to consider setting up a double opt-in form to weed out spammers or bots. Also, pay particular attention to CTA buttons, which can have text varying from the usual 'sign me up to more action-oriented ones like 'get my 15% off or 'get job alerts now.'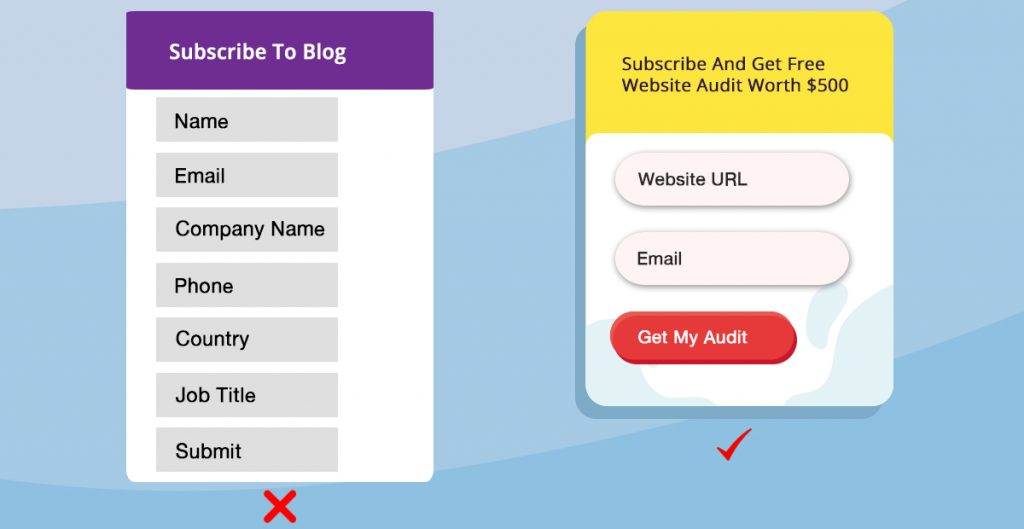 Engage with new subscribers immediately
When someone has opted-in to receive your content, you are still on top of their mind. This an opportunity for you to seal the deal even more strongly, and yet, this is something not many marketers take advantage of.
You don't have to wait for new email subscribers to begin engaging with your content only when you send out your next scheduled newsletter or email, which could be days, even weeks away. Instead, what you can do is, send out a thank-you email or even another offer as soon as someone has subscribed to your mailing list.
Email platforms like MailChimp allow you to set up such emails that are sent to new subscribers automatically as soon as their email addresses are updated into the system. You can even get creative and offer additional content by getting your email subscribers to like your Facebook page or share it with another friend to unlock the new offer.


Show signup options everywhere
Intuitively, you would think that the website is the only place for a signup form, but this disregards the fact that not all your audiences are going to be frequenting your website directly, and instead, you may have to direct them there. Make use of both your blog posts and social media posts to drive people to landing pages or newsletter signup forms.
You can even combine your forms with social proof to add weight to the value of the content. For instance, you can tout the fact that the visitor can join 30,000 other email subscribers on their weight loss journey and become a part of a large community that have been working towards solving just the same pain points as the visitor.
to generategenerateto generateEncourage sharing
Getting people to refer you and your content to others is extremely powerful. We tend to have greater faith in the recommendation of our family, friends, and even influencers as compared to when the business tells us that what they are offering is helpful. Get your existing subscribers to share your newsletters or emails within their network and build your email subscriptions. This is also an excellent way for you to find like-minded prospects.
Do It Now
You will have to experiment with different layouts, CTAs, and offers to see what maximizes email subscriptions. The key tactics or the basics remain the same – providing valuable content, making it easier to signup, and adding social proof – will generate not only a greater number of email subscriptions but also increase the engagement of the subscribers with your content and generate a loyal following.
RoboAuditor generates at least 4X more email subscribers Vs. the Static Email subscription forms.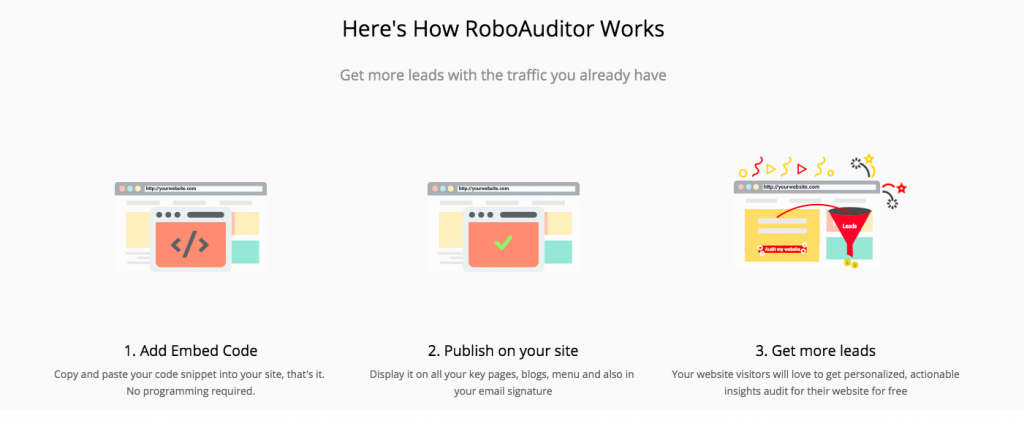 What email subscription methods have you tried in the past? What has and hasn't worked for you?