You must have read about how sending an audit report of the prospect's website while writing a cold email pitch to them can increase your chances of conversion.
It's true; a website audit report can be a great icebreaker between you and the prospect. It shows the amount of research and the level of commitment you have towards the prospect's company.
However, all those efforts could go in vain if the report does not carry your logo and instead carries the logo of the SEO tool you used to audit the website. The prospect would not be able to distinguish between your agency and the SEO tool that you used.
That's where a white label SEO audit tool comes to your rescue. 

What is a white label SEO audit tool?
The white label SEO audit tools are similar to the free SEO tools you find on the internet, except they are more comprehensive, sophisticated, secure, and, most importantly, anonymous.
Let's explore these features in detail.


1. More Comprehensive


Your prospect would want to know everything that's wrong with their website before engaging with you. A preview of the report would not likely help them make a decision. White label SEO tools offer a comprehensive report on the health of the website. It covers everything right from on-page SEO to technical SEO parameters.

Free SEO audit tools, on the other hand, include just the basic parameters, which the prospect might already be aware of.


2. More Sophistication


So, you have sent your prospect the audit report. What's next? What if the prospect considers the report but does not respond to you? How are you going to push them further down the funnel? The role of a free SEO audit tool ends at generating the SEO report. A few white label SEO tools help you further until the conversion process is completed.

RoboAuditor, for example, offers integration with tools such as MailChimp, HubSpot, Zapier, etc. to make it easier for digital marketers to push the leads further into the funnel. They also support more than 6500 languages. If you plan to target prospects from other countries, a customized report in a particular language can give you an edge over your competitors.


3. More secure


At a time when companies are conscious about how their data is used, a report with a third-party branding might not go well with your prospect. You also don't know how those free tools use your prospect's data.

With White Label SEO Audit Tool, you will have more control over the data. You will also be able to instill faith in your prospects by stating that their data is secure and will not be sold or used in the wrong way.


4. Carries your branding


White label SEO tools are developed by another company, but their identity can be masked by adding your logo to the top of the report. It is a win-win situation for both you and the prospect.

You can save cost on developing a tool from scratch and time on analyzing and generating SEO reports manually, and your prospect can get an understanding of the gaps they need to fill to improve the website.


What to look for while choosing a white label SEO audit tool?


Does it help in generating leads?


The primary purpose of auditing a website is to generate leads. If the white label SEO audit tool does not help in generating leads, you may want to look for a tool that enables you to do that. Check if it offers integration with other tools that will aid you in your lead nurturing process.


Does it audit all the SEO parameters?


Check if your white label audit tool analyzes all the SEO parameters on the website. As we mentioned above, your prospect would want to know the health of their website in detail. If your tool offers just a preview or skips auditing some of the important parameters, it might not be worth the investment.

Opt for a tool that checks for all the parameters. Compare the best available white label SEO audit tools before making a decision.


Does it comply with the EU-US Privacy Shield Framework?


The SEO audit tool will be capturing the data of your prospect's website. Before you add a disclaimer on your website, stating that you will safeguard the data of the user, ensure that your white label SEO audit tool complies with it. Growth Robotics, for example, has clearly mentioned how it will process the data of the customer.


Is it easy to install?


The purpose of having a white label SEO tool is to save cost and money on building a tool of your own. So, if you need a team to install the white label SEO tool, it might not be a feasible investment for you. Look for a white label SEO tool that is not dependent on an IT team for installation. RoboAuditor, for example, is so simple to add on your website, that even a non-technical user would be able to do it.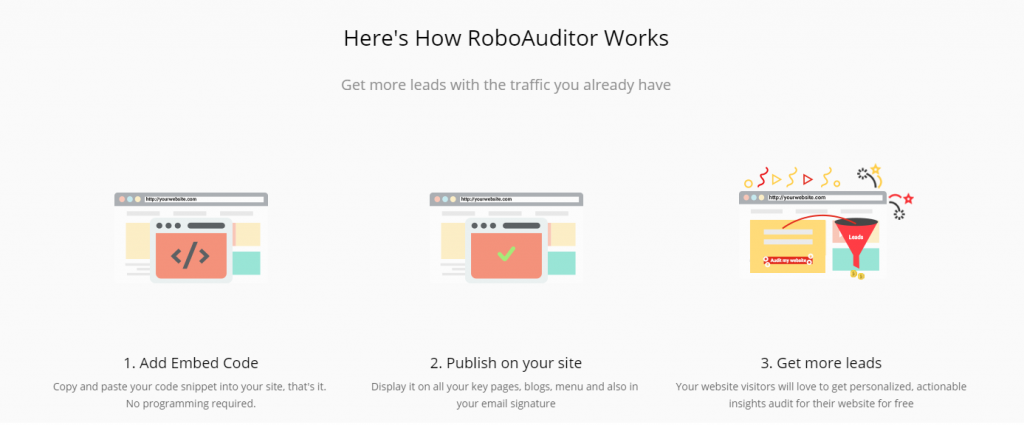 White label

SEO audit

may require you to make a small investment of as low as $10 per month, but the results that you will derive from it are amazing. Our clients, such as Fractional CMO and ZNetLive, have managed to increase their leads with the help of a white label SEO audit tool.
Thinking of giving it a try? You can begin with a 14-day Free Trial of RoboAuditor and see the results for yourself before subscribing to it.