Do you know?
According to a report by Forrester, digital marketing will grow at a CAGR of 9% by 2023, with companies spending over $146 billion on it.
So the businesses realize that if they have to improve the top line and the bottom line, they have to go where their target audience is.
With more than 55.1% of the world's population having access to the internet, it's clear that no matter which industry a company belongs to or what they offer to their customers, having a digital presence is a must.
Now merely having a website will not help. If companies want to grow their business, they have to invest your time, money, and resources into marketing their offerings.
The excellent part about digital marketing is that it allows companies to explore multiple channels such as social media, digital paid advertising, SEO, videos, and much more. However, all these efforts will be practical only if they have the right experts to do it.
That's why most companies prefer to outsource their marketing operations to digital marketing agencies.
A digital marketing agency has the right mix of experts such as website developers, graphic designers, SEO experts, campaign managers, content writers, etc. that helps companies to achieve their marketing goals.
However, with so many agencies mushrooming every passing day, and with each of them claiming to be one of the best agencies in the market, companies can have a tough time choosing the right one.
Here's where you can make a difference.
In the world of 'me too' digital agencies that talk about the services they offer without providing any substantial evidence, you can create a difference by showing them the value you can offer them.
And you don't have to do multiple things to create a difference.
There's just one thing that you need to do.
Offer a solution to a problem when they visit your website even without interacting with you!



Yes, it is possible. This is a similar strategy even the big marketing mavericks like HubSpot, Moz & Neil Patel have adopted.
Let's assume you are a customer who wants to increase the traffic of the website. You are looking for a digital marketing agency that can help you with it.
There are two agencies you find interesting – one that has a fantastic website with good eBooks and blogs and another that along with ebooks, blogs give you an option to audit your own website for FREE to find out the reasons for why your website is not getting traffic. Which one would you choose to engage with?
If I were the customer looking for a solution, I would have chosen the other website.
Why? It's simple. The website gave me the first step of the solution – it shows me my problem.
With the help of the website audit tool, I could identify the areas that require immediate attention and fixing.
Of course, eBooks and blogs help in establishing you as an expert in the field. But when a prospect visits your website, they want a quick solution for their problem. By showing your possibility where the fault lies and what they can do to fix it, you would be able to gain a brownie point. Most likely, the client would prefer to give you the task of fixing their SEO because you are aware of the problem and know what to do to make the website rank better.
A similar approach was used by Fractional CMO, a HubSpot Silver Partner agency based out of the United States. Apart from their ongoing activity of writing eBooks and blogs, they added an option on their homepage, inviting visitors to audit their website for free.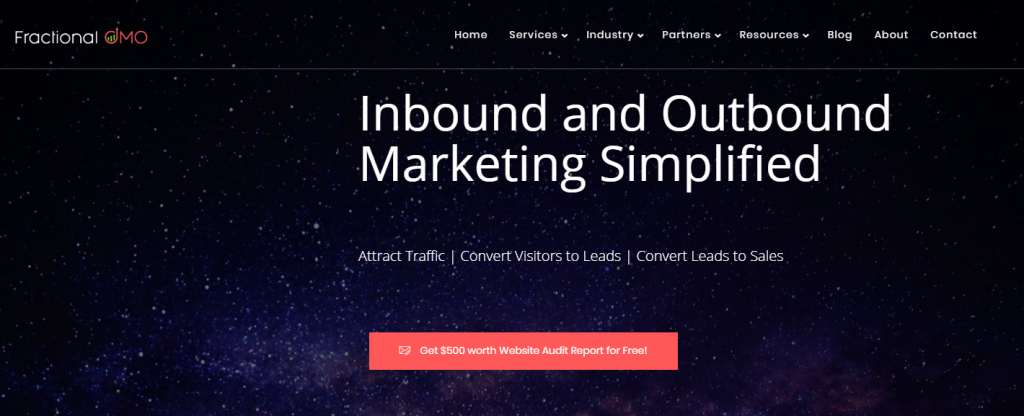 The website audit tool helped them to reduce their marketing costs by 75% and increased their leads by 400%.
Aah!! I am not a developer or do not have a tech team to develop these interesting tools !!
If that question occurred in your mind, don't worry! You can generate leads like Fractional CMO at just a fraction of the cost.
The good news is you don't have to spend a lot of money in developing a tool.
There are some white label SEO audit tools like Growth Robotics, who will offer you a readymade tool for immediate use.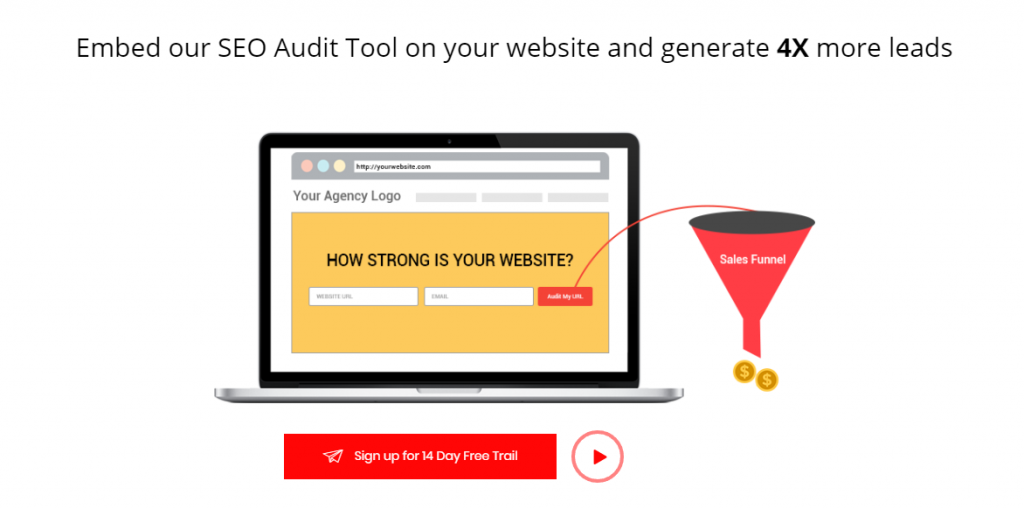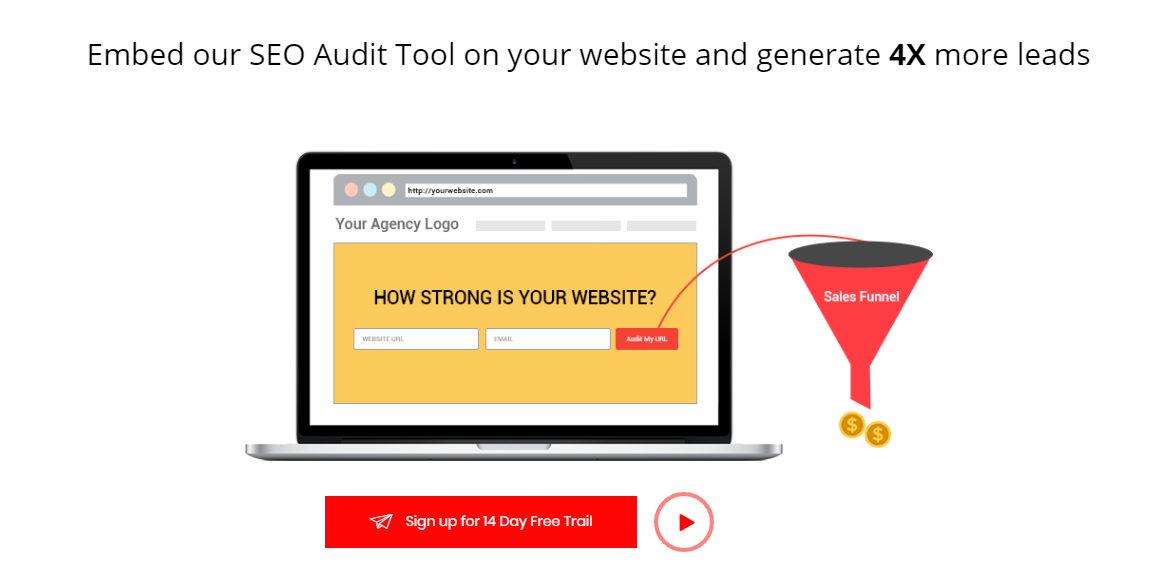 Introducing RoboAuditor
Just embed a few lines of code on your website, and robot auditor is all yours:). Any visitor can audit their website using the tool, and the report will be generated by RoboAuditor will carry your branding.
Some more advantages of RoboAuditor
The cost of lead generation is 75% less than that of ebooks & white papers. It takes only a few minutes to bring it up and to run.
You will also be able to establish yourself as an expert who understands the problem of the customer well – an advantage that will help you score better than your competitors. Biggies like HubSpot, Neil Patel & Moz, do the same.
You can offer services and open an extra stream of earning revenue. So, if you specialize in paid advertising or content writing, you can use SEO audits as an additional offering that can complement your existing offerings.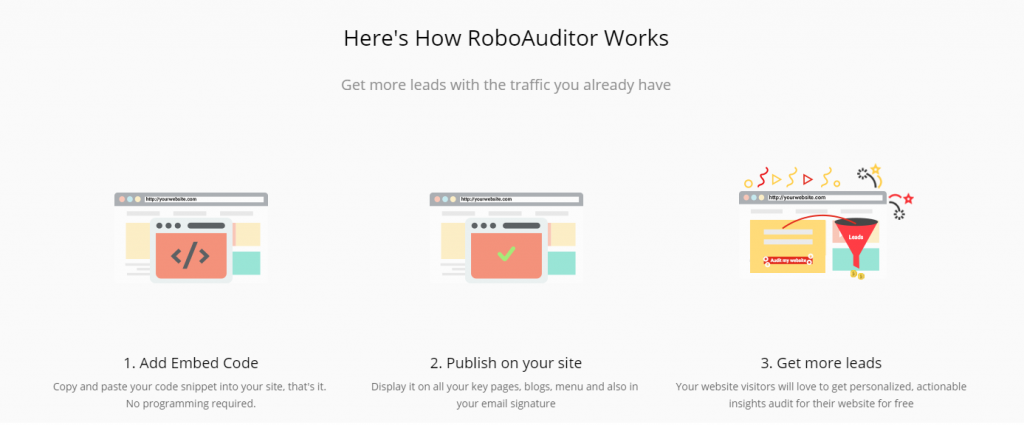 Take a free trial today. You don't even need a credit card to sign up. You just have to sign up and try the tool; you can pay once you are satisfied with the results delivered.
RoboAuditor is an Embeddable SEO Audit tool that generates 4X more leads with the traffic you already have.