What do you do to generate leads for your digital marketing agency?


Do you send cold emails or do cold calls?


Well, that no longer works as effectively as it did a decade ago. People do not prefer to be contacted if they don't know you.

Do you write regular blogs, gated content such as an ebook, and post content on social media platforms?


Yes, that works, but it's going to take a while for you to generate leads and cost you a lot.



So, how can you generate leads up to 4x in a quick way?
The answer is quite simple.
Follow the HubSpot, Neil Patel and, Moz's to know what type of lead generation methods they used to generate leads through the website.


How Does it Work?
Simply put, it helps you to establish the first point of contact with the prospective client.
Let's take an example, there are thousands of digital marketing agencies in the market vying for your client's attention, and your client probably receives at least ten emails in their inbox promising them of best digital marketing services. How will your customers know you are the right marketing partner for their organization?
Sure, they can go through your online reviews, case studies, and your website content to gauge your expertise; or you can offer a free consultation or a Proof of Concept to display your expertise.
However, to reach that stage, your prospective client has to be sure that you can solve their problem. That's where a tool such as a website audit tool can come to your rescue.
That's what has helped Neil Patel, Hubspot, and Moz to generate leads.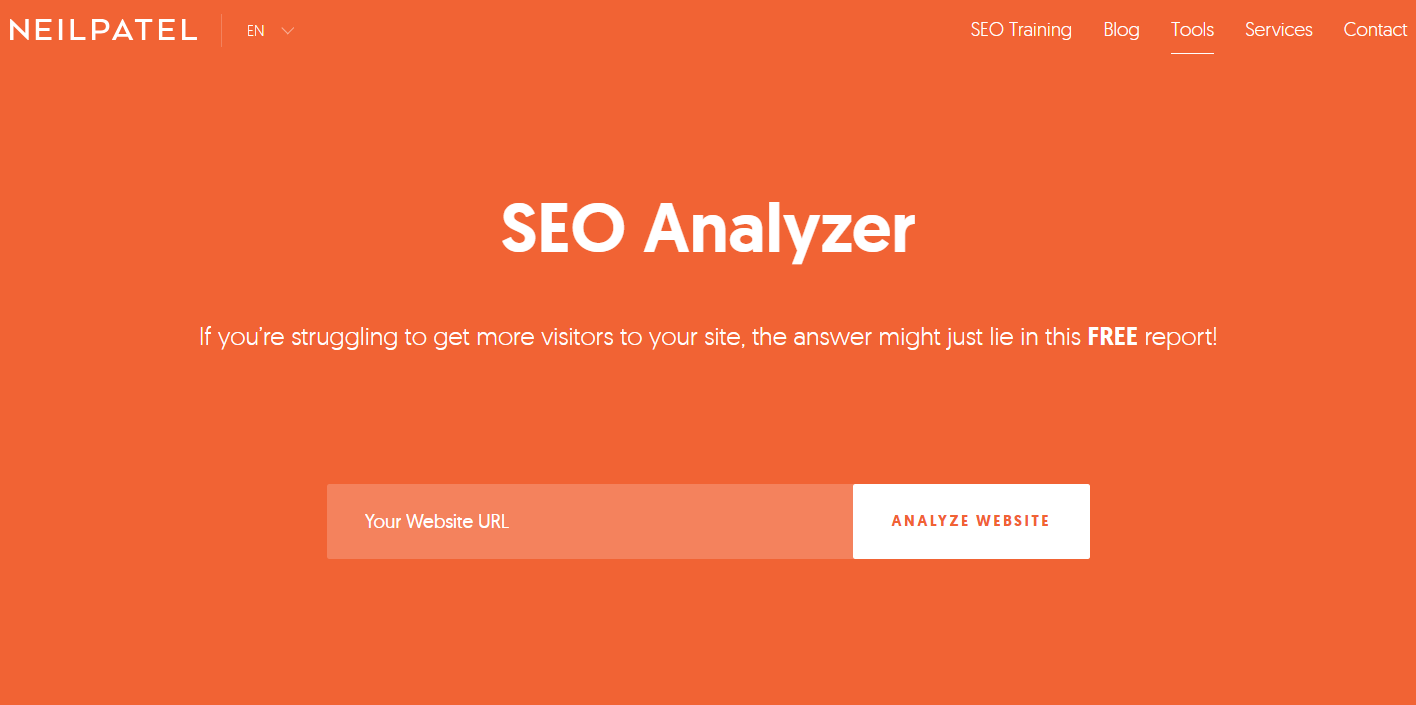 Here's what Neil Patel, the founder of neilpatel.com had to say about the tool,

"SEO Analyzer is the major source of lead generation on the website neilpatel.com & it continues to generate more than 70K in leads/month".
                                         
                                                   Neil Patel on SEO Analyzer

 
Here's what Dharmesh Shah, the co-founder, and CTO of HubSpot had to say about the tool,


"grader.com (which started life as WebsiteGrader.com) has been our best performing piece of content, ever. This is based on the number of leads it generates on an ongoing basis. Of course, like other high-impact content, building a tool does require an investment — but when it works, it can work really well. We can trace millions of dollars of revenue over the years to grader.com"                                                                                   

 
                                         Dharmesh Shaw on Website Grader
You see, a simple tool that offers an in-depth website audit report to the visitors has helped HubSpot become what it is today.
Show your prospective customer where the problem lies, and they will come back to you to implement the solutions suggested in the report.
As Dharmesh Shah said, developing a tool like a website grader can be a costly investment.


But white label services can relieve you of the hassles.



Here come White Label SEO Audit Tools for your rescue

White Label SEO Audit tools solve the problem of hiring a big team to develop your own website grader or SEO Analyzer.

Using White Label SEO Audit Tools like RoboAuditor, you just sign up, put your business logo, contact details, and your name and start generating your own SEO audit reports.

RoboAuditor goes a step further, Just embed it on your website, and when your prospects visit the website, they can audit their website on their own, and you get the prospect details with minimal efforts 🙂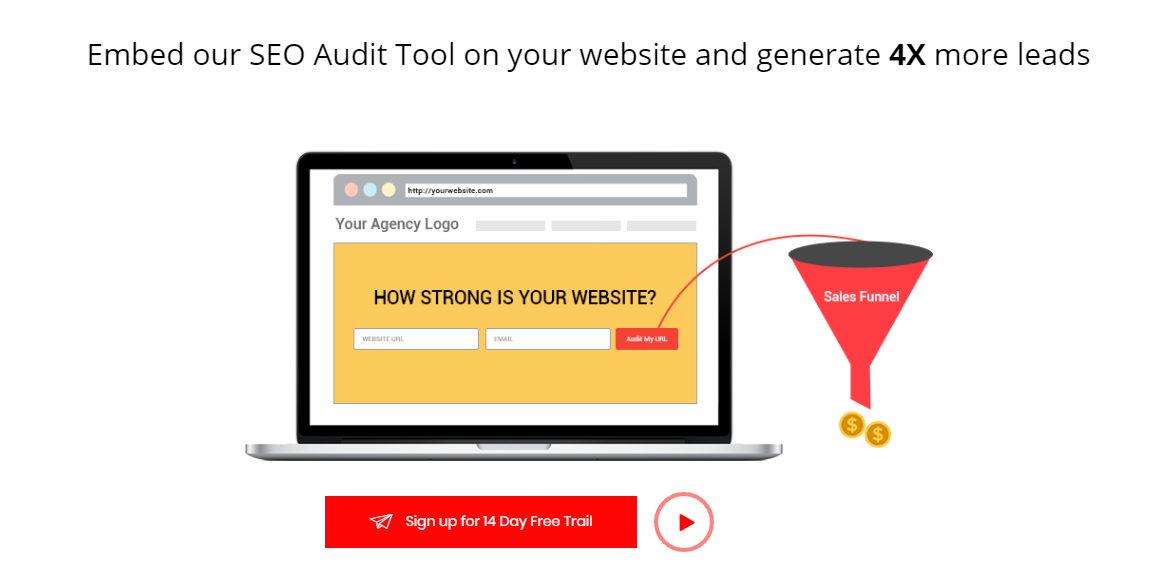 Sounds good, how do I choose the right tool?

For all the domain resellers, website design services, SEO & marketing related businesses, website audit tool is a great start.

Important things to consider

1. Everything should be a white label: This means even the URL on which the report shows should be white label 🙂

2. Comprehensiveness: The report should be comprehensive and understandable.

3. Integrations: The tool should be connected to popular marketing and CRM systems. This way, you can start lead nurturing campaigns once a lead is generated. This is very important else you will end up creating one more silo

4. Customer Support: You should get good support over phone, email, and chat.

5. Pricing: It should be reasonably priced so that you can give it a shot.

6. On Cloud: Make sure the tool which you pick is on a cloud. I am sure you don't want to manage the servers and related stuff at your end.

One of the tools which fits all the above pointers is RoboAuditor. It just takes hardly 5 minutes to put it on to your website, and you start generating leads from day zero !!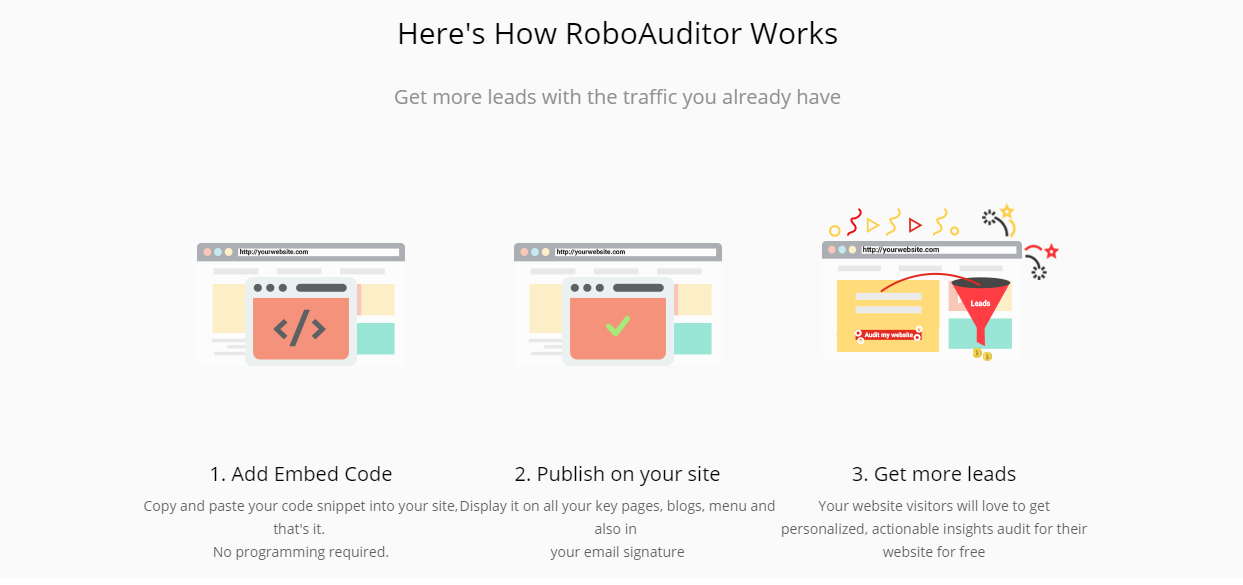 Great, so I can become a billion-dollar agency by using the tool…

It's possible. But your work does not end with generating leads. You need to provide them with informative content to establish yourself as a trustworthy digital marketing partner. As Rand Fishkin, the co-founder of Moz, said, "the Beginner's Guide to SEO and the Search Engine Ranking Factors were seminal works.


They helped establish our brand, build an audience, and create credibility in the market. Without them, it's tough to imagine that Moz could be where it is today."
So, do not stop with providing the audit reports. Invest in writing informative blogs, definitive guides, and webinars to build long-term engagement with them.


RoboAuditor is an Embeddable SEO Audit tool which generates 4X more leads with the traffic you already have