One factor that differentiates the right agency from a normal one is the way you present your services to your prospect. If you talk about services that almost every agency provides, chances are your prospects may close the dreaded red-colored cross button of the tab and go to the following website.


However, if you show your prospect 'HOW' your services can help them identify and solve their pain points, chances are you will stare at a potential increase in the number of leads by 4x times. After all, your prospect has visited your website in a bid to find a solution to their problem. So, a preview of 'WHAT' you can do to solve their problem will help them to make a decision quickly.

There are several ways to show your clients the potential of your services. If you are an agency that offers SEO services, then you can use the four tools that we are going to discuss in a bit to generate leads, convert them to clients, and increase your profits.


Let us look at each of these tools in detail.

Four Super Good SEO Audit Tools for Your Business


Different SEO tools serve various aspects of SEO. As an SEO agency, you would require these tools to help you provide a comprehensive SEO solution to your customer.

We have shortlisted four important SEO audit tools that will aid you in identifying the pain points of your prospects and provide them with actionable SEO insights, which will prompt them to visit your website again and eventually convert into a customer.


# 1 – SEMrush for Keyword research and ranking

SEMrush helps you in identifying keywords that can be used to improve the ranking of the website. You can use this tool to help your prospects identify keywords related to their industry that have made their competitors and industry leaders rank high in Google and Bing results.

For example, if the prospect belongs to the shoe manufacturing industry, SEMrush will help you identify the keywords that work well in the industry. You will also find extended information such as cost per click (CPC), the number of trends, and ad copies for the term through the tool.





Through SEMrush, you can suggest your prospect about the keywords that they can use to improve their ranking. It will help them plan their content accordingly. The price of the tool begins at $99.95 per month!


# 2 – Ahrefs to check backlinks

We cannot stress enough about the importance of backlinks in ranking a website high on search pages. If you want your customer's webpage to rank higher, then Ahref is your go-to tool. Ahref's Backlink Checker analyzes backlink profiles and identifies link opportunities.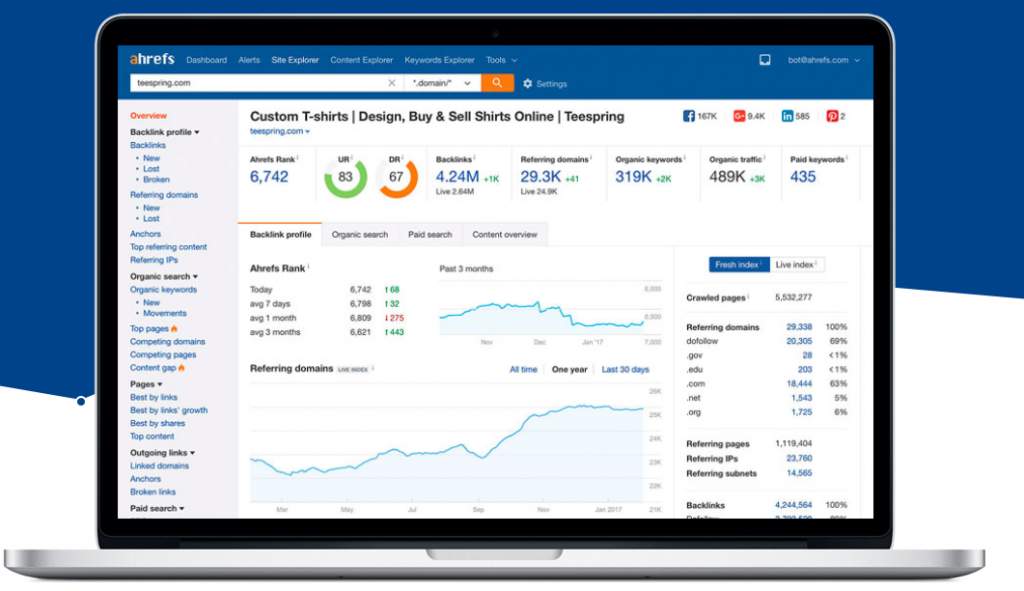 It crawls a large volume of 6 billion pages every day and updates the backlink index every 15 minutes, which means you can find new backlink opportunities instantly. Another essential feature of Ahref is it performs backlink research that compares the profiles of your client with their rivals.

So, it provides you with a list of domains that link to the competitors but do not link to your client. It provides you with an excellent opportunity to suggest to your clients about backlink opportunities and help them build a stronger backlink profile. The price of the tool begins at $99 per month!


# 3 – BuzzSumo to research and plan content ideas

Cliché as it may sound, but we cannot deny the fact that content is the king! You may know that Google changes its search engine algorithms several times a year. However, with good content, you can be assured of establishing an important place in the search engine ranking.

The most challenging part of writing content is the idea generation part, especially at a time when companies have to churn out new content frequently as a part of their content marketing strategy. How do I find a new topic every week is a constant question that the content team finds itself asking. You can help your client find that by using BuzzSumo.





You can use BuzzSumo to research and identify content that your client's audience will resonate with, focus on the right social media channels, and identify topics, length, headlines that could work best in the client's industry.

One of the most exciting features of BuzzSumo is 'find influencers,' which helps you in finding the influencers in your client's industry and reaching out to them as a part of content strategy. The price of the tool begins from $79 per month!


# 4 – RoboAuditor for lead generation

Do you remember what we said about showing 'HOW' and 'WHAT' you can offer to your prospect at the beginning of the blog? Well, just to reiterate, as a first step of generating leads, you have to provide actionable solutions to your prospects instantly to win their trust (in your case, their e-mail id).

RoboAuditor helps you do just that. If you have used Hubspot's Website Grader or Neil Patel's Website Analyzer, you would have noticed that it provides you with an instant report on your website's optimization on entering the URL. This helps you identify the areas of improvement and work on it. RoboAuditor works on a similar premise, but with an added advantage of White label SEO services.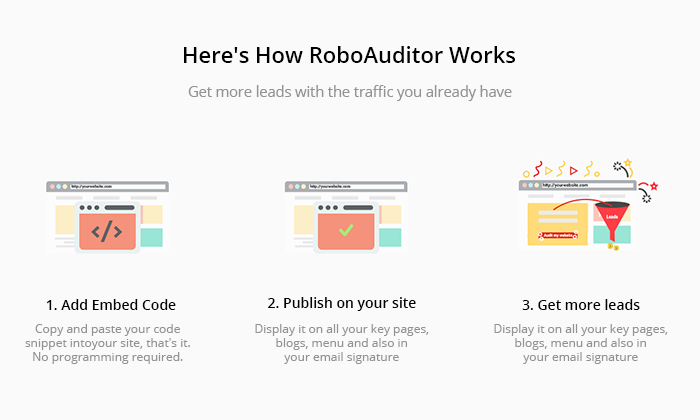 You can use RoboAuditor to analyze your prospect's website and provide them with a report on optimization within 60 seconds! The best part is while RoboAuditor generates the report, you can send it to your prospect in your agency's name.

You do not have to spend the massive amount of money, resources, or efforts on preparing whitepapers or e-books to generate leads read more about this on our blog post on how to generate leads without e-books and whitepaper. It is simple to integrate it with your website (all you need to do is embed the code on your website) and can help you generate more leads compared to other channels. The tool is free, as it is in the BETA version.


How to select the right tool?
While you can use all the four tools along with content marketing strategies to attract, engage, and convert the leads into clients, we recommend that you determine your business goals before selecting the right tool.

For example, if your objective is to generate just leads, then RoboAuditor is enough to meet your objectives. However, if your objective is to generate leads and give a glimpse of how you can provide content ideas to your customer, then you would require RoboAuditor and BuzzSumo to help you achieve your goals.

We recommend that as a first step, you can use RoboAuditor to generate leads and then follow it up with other tools once they are converted.


RoboAuditor is a top Site Audit tool that generates 4X more leads with the traffic you already have.