When Formstack – a data management company specializing in online forms, surveyed 400,000 users to understand the conversion of contact forms, they realized that only 3% of the users filled the form. It was even worse for digital agencies, with only 1% of the users filling the form.


This was a surprising trend considering that for long, marketers have considered forms to be the best method to generate leads. They use forms to gate unique and well-researched content such as ebooks and white papers and use the information entered by the lead as the first point of connecting with them. We are not undermining the potential of the form. Of course, it is still one of the widely used strategies to generate new leads.



However, there are many reasons why contact forms are dying a slow death.



Time-consuming: Forms could be a good way of collecting information, but people find it tedious to fill long forms with an endless number of questions. It becomes a time-consuming process, especially when your leads are hard-pressed for time.

Intrusive format: In a bid to get more information, some forms have fields that ask people to enter personal details, income details, or social numbers. This could become intrusive, especially for people who are uncomfortable sharing such details on a public platform even when the website looks secure or has a trust seal.


One-way communication: The decline in the popularity of static forms is it's a one-way and impersonal form of communication with the lead. Once the lead fills and submits the form, there is no action from either side until the sales representative calls them. The lack of action and the uncertainty of having a conversation are some of the reasons that discourage prospects from filling the boring static contact forms.




Rise of the bots and interactive forms



The decline in the static forms, however, has led to the rise in popularity of bots and interactive forms.



Take Drift, for instance. The leading conversational-marketing platform recently replaced its forms with live chat and chatbot campaign.  The approach was meant to make content free, but most importantly, to convert leads quickly through two-way, live interaction.


The two-way communication enabled interested leads to resolve their queries in real-time instead of waiting for an e-mail or a call and make a decision quickly. The result? Drift was able to increase the number of leads by 15% and drive the business by 50%. It led to a higher conversion rate compared to the form method that has a slow response time.



Another method of lead generation that has taken over the static form is the interactive form.  These forms are usually found on financial websites. For example, you may have answered interactive questions on budget, monthly income, and family details to find out your eligibility for availing the loan.


Once you fill the interactive form, the tool automatically calculates your eligibility and tells you the exact amount that you can avail of. This method of filling the forms and the immediate solution provided by the tool keeps the users engaged and boosts the process of lead generation.


Tools – the third and effective way of generating leads



Sure, bots and interactive forms are a great way of generating leads. But, marketing agencies are slowly warming up to the idea of creating customized tools to generate leads. These tools are specifically created to provide solutions to specific problems of the prospective lead in a click of the mouse, and then push them down the sales funnel. Take, for instance, RoboAuditor's  SEO Audit Tool.

It can be plugged on to any website in just a few minutes. Any website visitor can only enter his domain and email address to generate a detailed SEO Audit report along with actionable insights.

This way, the digital businesses not only start generating leads but also leave an excellent impression on the lead's mind.

RoboAuditor helped businesses like Znetlive generate more than 400 leads in just a couple of months. The exciting part here is that these SEO Audit Tools start generating leads from day 1.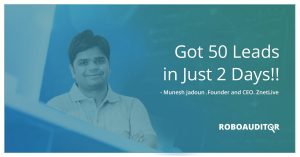 What makes these tools a popular means of generating leads?



Immediate insights: When a prospect comes to the website to get a solution to their problem, the free tool available on the website gives them an insight into their problem in just a click of the mouse.
Personalized solutions: When a prospect enters the URL of their website or a heading of their blog, they are assured of receiving personalized solutions on areas of improvement rather than a generic solution. It helps in building trust with the client and prompts them to visit the website repeatedly for more personalized solutions.
Solutions worth hundreds of dollars delivered free of cost: Companies usually spend hundreds of dollars to get their websites analyzed. However, with tools like website grader and Growth Robotic's RoboAuditor at its disposal, companies can get a similar kind of report free of cost.
Actionable insights: Unlike ebooks and white papers that provide theoretical knowledge on industry trends and the challenges faced by the companies, tools such as website grader and RoboAuditor provide practical solutions to address specific problems on the website. This makes it simpler for the organization to prioritize and fix the problems immediately.



With so many benefits of using a tool, the prospect does not mind sharing their e-mail ID with the agencies, which they were hesitant to provide earlier. This is a positive trend by itself, considering that the agencies can now focus on converting the leads rather than generating them.



It is also a better method of engaging with the leads considering that organizations look for more actionable insights than generic solutions provided by gated content such as ebooks, which are useful but do not address the problem of the prospect immediately.


RoboAuditor is an Embeddable SEO Audit tool that generates 4X more leads with the traffic you already have.


Conclusion:

We strongly feel that in the year 2018, we will see an immense rise in the popularity of chatbots, calculators, and interesting tools like Coshechdule's Headline Analyzer or RoboAuditor's White Label SEO Audit Tool.