Until a few years ago, attracting traffic to the website was quite simple. You found high volume keywords for SEO, wrote content around it, promoted it on social media, grew your followers and subscribers, earned links, and used ad platforms to drive conversions.
However, the trend seems to have changed now.
In his presentation titled 'The Next Era of Web Marketing: 2019 and beyond', Rand Fishkin spoke the uncomfortable truth. He announced that the 2009-2016 'Inbound Marketing' playbook has failed to generate the results that marketers we're used to seeing until 3-4 years ago.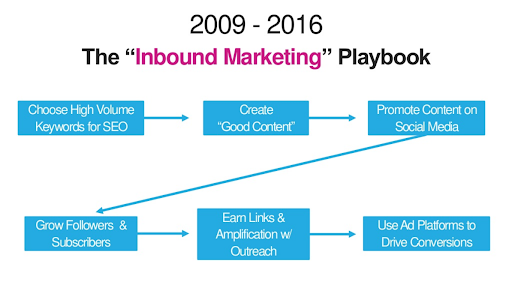 Source: LinkedIn SlideShare
Why is it happening?
Let's focus on the two primary platforms that marketers rely upon for generating leads and growing business.
1. Social media platforms
For a long time, marketers relied upon Facebook to market their business. After all, the reach was good, and marketers did not have to spend a lot of money on marketing. Most of the traffic to the pages was organic. However, last year, Facebook announced the change in algorithms to make the platform less ad-driven. "I'm changing the goal I give our product teams from focusing on helping you find relevant content to helping you have more meaningful social interactions," said Mark Zuckerberg when he announced the algorithm change. The change killed the organic reach. The organic reach to the business page had almost diminished to zero from 28% in 2011 to 0.5% in 2017.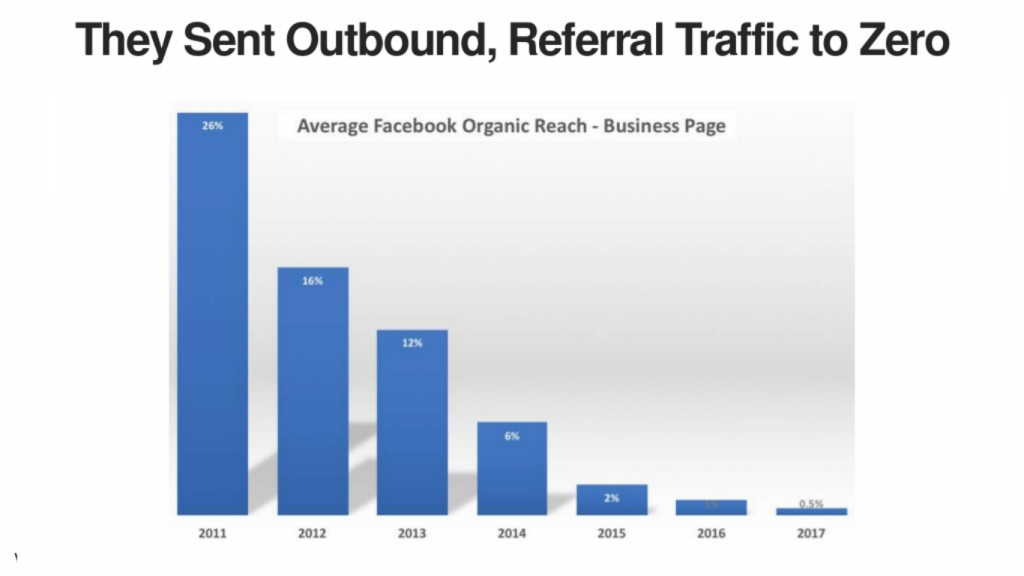 Source: LinkedIn SlideShare

2. Google Search
For a long time, marketers concentrated on strengthening their SEO and investing in Google AdWords to generate traffic to the website. However, for the first time last year, Google sent less organic traffic to the website by answering the questions themselves. Google is shifting from being a search engine that directs traffic elsewhere to the one that answers all the questions within the search results itself.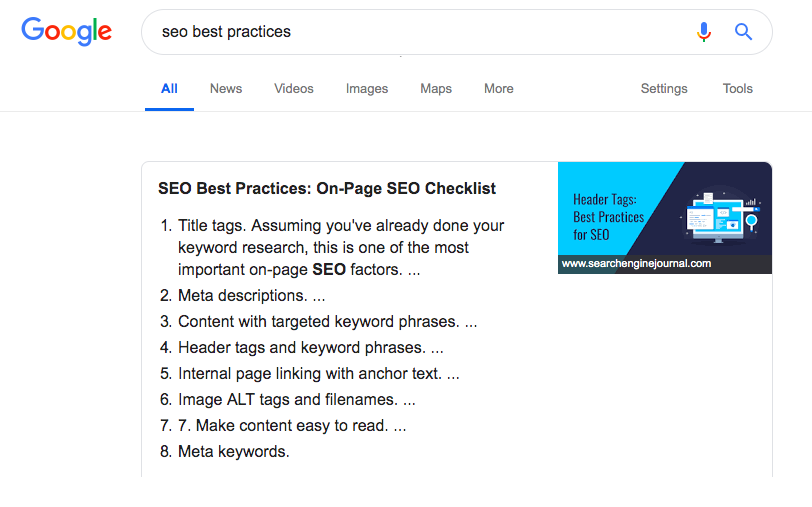 With so many changes happening in the algorithms across different platforms, marketers have to think of ways to generate website traffic and convert them into subscribers. Also, it's essential to build a strong lead magnet.
Marketers must stick to the basics.
What does that mean?
Rand Fishkin advises marketers to make their website and email list the center of all digital campaigns. 100 true fans are better than 100,000 visits, he says.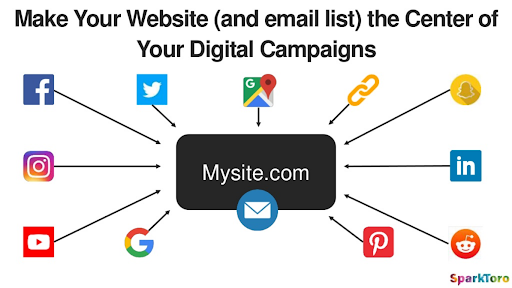 Source: LinkedIn SlideShare
How do you get your fans?
1. Focus on generating visitors to your website
Generating visitors to your website can be a challenge, especially when the organic reach is limited. How will you make people aware of what you do if they do not visit your website? There's a simple solution to it. Focus on addressing their pain point first.
For example, if you are the owner of a digital marketing agency, you know that optimizing the website for the search engine is their primary concern for every business. You can address this problem by giving your prospective customers a reason to visit your website and giving them an option to get a detailed SEO audit for FREE.
That's how Hubspot and Neil Patel generated traffic to their website earlier. While HubSpot's Website Grader is now a separate tool, Neil Patel's SEO analyzer is still a part of his popular website.
Recently, Fractional CMO, a digital marketing agency, did a similar thing to differentiate themselves from the other players of the industry. Instead of talking about themselves or their services, they gave the visitors the option to self-assess their website for free.
By adding a White Label SEO Audit Tool, Fractional CMO was able to increase its leads by 400% and save their time on creating lead generating assets such as blogs and ebooks.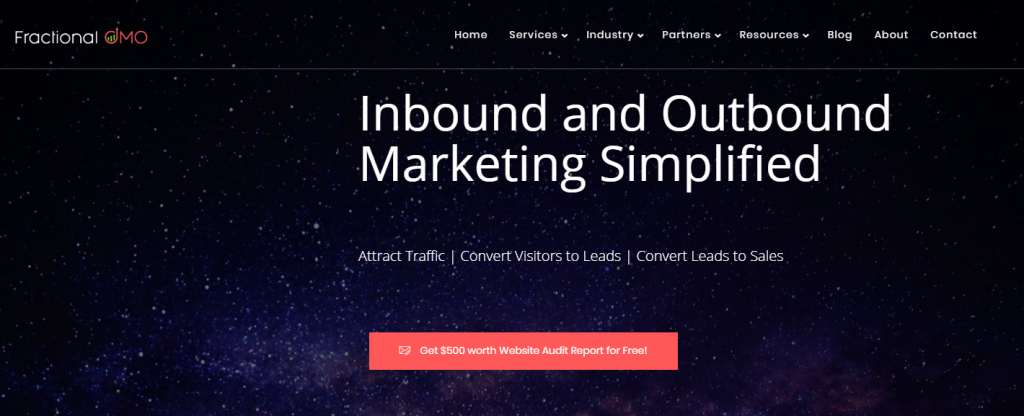 Once you show your value to the visitor, they will be compelled to revisit your website and engage with you further. That's how great websites like Canva and HubSpot do. They show you the value of their offerings on your first visit, engage with you also to build your trust and eventually make you their fan. It's the best way to find high intent prospects and get referrals without spending too much money and effort on generating leads.
2. Build your email list
The second suggestion by Rand Fishkin is to build the subscriber list, or in other words, the email list. Email marketing completed 40 years recently, and though people believe it to be dead, the fact is it is still relevant.
According to Statista, there are over 3.7 billion email users currently, which is set to grow to 4.3 billion users in 2022. Emails are the best way to build trust with your prospects and customers as it is a direct communication from you.
By developing an email list, you can engage with your prospects in a more personalized way. From sending them weekly curated content to offering exclusive discounts, you can offer a lot of value to them and show them the benefit of engaging with you.
The challenge, though, is to get people to share their email IDs. There are several ways in which you can build an email list.
Some of them are age-old techniques like you ask your blog readers to subscribe with their email IDs to receive future content from you, and some are time taking and expensive ones like create gated content such as ebooks and whitepapers, which can be accessed only after the personal details are shared.
However, most people are wary of sharing their email IDs to avoid receiving unsolicited emails from companies. If you want your visitors to share their email ID voluntarily, you need to build trust with them. And that's only possible when they see value in what you offer.
Let's go back to Fractional CMO's case study. Fractional CMO gave the visitors an option to audit their website for free. To receive the website audit report, the visitor had to enter their website's URL and the email ID.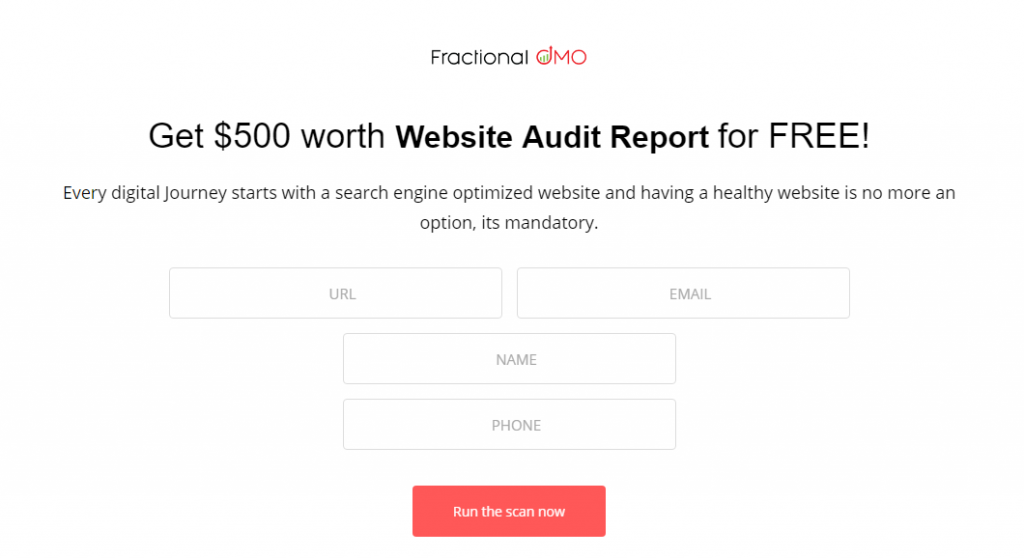 That's how Fractional CMO built their email list and later converted them through lead nurturing.
So, find a 'Do It Yourself' kind of a tool that will not just keep your prospects on your website for a longer time, but also prompt to share their email ID voluntarily.
How to begin with the process of retaining visitors on your platform?
What value your website visitors will get if they come to your website? For ex: If you run a digital marketing agency, an SEO audit makes a perfect sense.
However, if you want to generate leads like Neil Patel and HubSpot, you can begin with a white label SEO tool. RoboAuditor is a white label SEO tool that will allow your visitors to audit their website for free and get the report of its performance on their email ID within minutes. It's that simple!

Some of the best features of RoboAuditor
The SEO audit report should is white labeled in the real sense, i.e., the report has your logo and not that of the tool provider but of your business.
Ability to integrate and send the leads in real-time to the right marketing or CRM systems like HubSpot, MailChimp, Salesforce, etc.
RoboAudito gives a detailed SEO report with more than 70 parameters covered. It is one of the few reports where the exact line of code or image is also shown up in the report.
Most importantly, the tool should be user-friendly. It should not need a specialized team to install it. It should be easy for anyone to install. Tools such as RoboAuditor are easy to install. You just have to embed code on the website, and your audit tool is ready for use!
Able to show the

Technical SEO audit

report in any language you wish too. Yes, You can show RoboAuditor SEO Audit report in more than 6500+ languages.

If you want to give RoboAuditor a try, sign up for a free trial. We are sure; you will not be disappointed with the results.
These two tips will help you get started with forming a fan base. Once your fan base is built, it will be easier for you to generate more traffic and leads for your business without having to rely on social media and other platforms that can become unpredictable with the change in algorithms.